Frank Williams says Pastor Maldonado was always the real deal
| | |
| --- | --- |
| By Jonathan Noble | Tuesday, May 15th 2012, 10:00 GMT |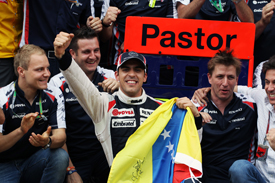 Frank Williams says Pastor Maldonado is worthy of a place at his team even without the considerable backing he brings, judging by his performance at the Spanish Grand Prix.
Maldonado delivered a surprise victory at Barcelona on Sunday, as he withstood race-long pressure from Fernando Alonso to end Williams' eight-year victory drought.
And although it is no secret that Maldonado owes his place at the Grove-based outfit to the backing that Venezuelan oil company PDVSA brings - this year it is paying £29.4 million - Williams says that his driver is the real deal.
When asked if Maldonado was only at Williams in the first place because of money, Williams said: "Yeah, he was to some extent. I'm not denying that. But if we thought he'd been a wanker, he wouldn't have got in the team no matter how much money he had.
"He did a very sensible job in GP2 and he fully deserves to be in the team with or without the dosh. The truth is that if you haven't got the dosh, you can't go Formula 1 racing.
"But we've got a real racing driver as well. I am just astonished by the way he just controlled himself, and didn't make a mistake at all."
Williams is well aware that there was plenty of opportunity for Maldonado to have slipped up on Sunday, especially because it was the first time he had been in a position to win.
"When a driver who has not led before and is out in front, he tends to make a mistake," explained Williams. "But from what I saw, he didn't come near it. He was calm on the radio the entire time. Given what we have seen in GP2 and F1 qualifying, he's very skilful.
"It's the first race he's led and led and led and, as the race goes on, you become under more pressure to not think about the podium, not think about what your mother's going to say, and not think how much the prize money is going to be.
"So you think don't crash, don't make mistakes, brake a little bit earlier, and look after it. That's what you've got to do and that's what he did."
Williams believes that Maldonado could go on to deliver more success in the future, especially because he thinks the driver is outperforming the machinery at the moment.
Speaking about Maldonado's potential, Williams said: "It could be very considerable indeed. We certainly couldn't say we've got a winning car. We've got a very good car, and we'd be sad to lose him."