Renault surprised to win so quickly with Williams
| | |
| --- | --- |
| By Edd Straw | Monday, May 14th 2012, 09:46 GMT |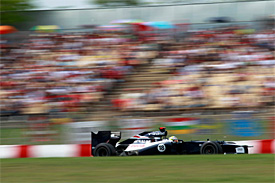 Renault Sport F1 managing director Jean-Francois Caubet has admitted that he didn't expect the revived partnership with Williams to yield wins so quickly.
Pastor Maldonado's surprise victory in the Spanish Grand Prix came in only the fifth race since the Williams-Renault link-up was renewed and although Caubet was always confident that wins would come, he saw it as a longer-term project.
"We thought we needed three years to win and after five races we did," Caubet told AUTOSPORT. "It's a fantastic feeling.
"The last win was in 1997 with Jacques Villeneuve [at the Nurburgring]. It is emotional for Renault. When we signed Williams it was huge news in Renault because we have been in Formula 1 for 45 years and Williams is part of our history."
Caubet is hopeful that there could be further victories this year.
He paid tribute to the quality of the car that the team has produced and credited the team's fighting spirit for it delivering top results so quickly.
"Yes, I think so," he said when asked if the win is repeatable. "In Australia, straight away the Williams was a good, competitive car. We have a good engine and fantastic drivers.
"We thought we could be about fifth or sixth in the championship and it would take two or three years to win but because of the fighting spirit, we did it now.
"Williams never give up. This is key. We were sure that they would be back and it was clear that the had the budget and the technical people to do so.
"They have the right people. In Formula 1, you must have the right balance between people with experience and [new] people with creativity."