Josef Newgarden fastest on day one of Indianapolis 500 practice
| | |
| --- | --- |
| | Sunday, May 13th 2012, 03:18 GMT |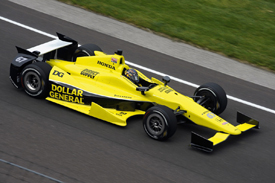 Rookie Josef Newgarden was quickest for Sarah Fisher Hartman Racing on the opening day of practice for the first Indianapolis 500 of IndyCar's new rules era on Saturday.
The day was largely a shakedown for the 24 drivers who were ready to run, but Newgarden still managed an early lap of 40.8627s at an average speed of 220.250mph.
JR Hildebrand, who came agonisingly close to victory as a rookie at Indy in 2011, was second quickest for Panther Racing, followed by Newgarden's new team-mate Bryan Clauson.
"The team has done it all year. People have seen before that they can produce a good road/street car, and there's no issues oval-wise," said Newgarden. "They've built really good, reliable, comfortable racecars for me, and they're doing the same for Bryan now.
"That's all it is, really. They make our job really easy, and I think that's what you guys are seeing. It bodes well, if anything, it's not really a big deal to be quick on this day, but it speaks well for the team."
Dale Coyne Racing's James Jakes and KV Racing Technology's Tony Kanaan completed the top five, while several drivers among the Penske/Ganassi/Andretti group which will be favourites for victory chose not to run on Saturday.
Pos  Driver               Team/Car                 Time      Gap
 1.  Josef Newgarden      Fisher DW12-Honda        40.8627s
 2.  JR Hildebrand        Panther DW12-Chevy       40.9662s  + 0.1035s
 3.  Bryan Clauson        Fisher DW12-Honda        40.9776s  + 0.1149s
 4.  James Jakes          Dale Coyne DW12-Honda    41.2304s  + 0.3677s
 5.  Tony Kanaan          KV DW12-Chevy            41.3335s  + 0.4708s
 6.  Charlie Kimball      Ganassi DW12-Honda       41.3415s  + 0.4788s
 7.  Helio Castroneves    Penske DW12-Chevy        41.3571s  + 0.4944s
 8.  Simon Pagenaud       Schmidt DW12-Honda       41.3825s  + 0.5198s
 9.  Justin Wilson        Dale Coyne DW12-Honda    41.3929s  + 0.5302s
10.  Scott Dixon          Ganassi DW12-Honda       41.4281s  + 0.5654s
11.  Oriol Servia         Panther/DRR DW12-Chevy   41.4367s  + 0.5740s
12.  Takuma Sato          Rahal DW12-Honda         41.4403s  + 0.5776s
13.  Graham Rahal         Ganassi DW12-Honda       41.4657s  + 0.6030s
14.  Will Power           Penske DW12-Chevy        41.5341s  + 0.6714s
15.  EJ Viso              KV DW12-Chevy            41.5723s  + 0.7096s
16.  Ryan Briscoe         Penske DW12-Chevy        41.5759s  + 0.7132s
17.  Sebastian Saavedra   AFS/Andretti DW12-Chevy  41.6463s  + 0.7836s
18.  Alex Tagliani        Herta DW12-Honda         41.7936s  + 0.9309s
19.  Rubens Barrichello   KV DW12-Chevy            41.7943s  + 0.9316s
20.  Michel Jourdain Jr   Rahal DW12-Honda         41.8856s  + 1.0229s
21.  Mike Conway          Foyt DW12-Honda          42.0263s  + 1.1636s
22.  Ed Carpenter         Carpenter DW12-Chevy     42.0636s  + 1.2009s
23.  Jean Alesi           Fan Force DW12-Lotus     42.9721s  + 2.1094s
24.  Simona de Silvestro  HVM DW12-Lotus           44.9201s  + 4.0574s