Michael Schumacher happy to begin tyre debate, denies he is frustrated
| | |
| --- | --- |
| By Jonathan Noble and Pablo Elizalde | Thursday, May 10th 2012, 17:22 GMT |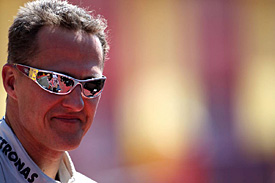 Michael Schumacher says he is happy he has made Formula 1 tyres a talking point after criticising them for having too big an effect.
The German was critical of Pirelli's rubber, saying it was impossible for drivers to be flat out during races, instead having to be careful not to damage the tyres too much.
Pirelli responded to Schumacher, saying it was providing the tyres it was asked for.
Schumacher said ahead of the Spanish Grand Prix on Thursday that he was happy a debate had been opened, as he still reckons the tyres have too big an effect on racing.
"Obviously we have touched on something that you guys have kept on talking about - and that is the principle of how Formula 1 should be," said Schumacher.
"And I am quite happy that we have initiated a discussion on how much influence one or another part should have in F1.
"I stated myself and I felt one part has too much and it should be a bit more equalised for everybody and the majority - rather than a smaller minority."
Schumacher denied, however, that his comments came as a result of him being frustrated for not having managed to extract the best from the tyres.
"It is certainly nothing to do with me being frustrated because I haven't really been frustrated," he said. "I started 22nd and finished 10th [in Bahrain], which I think was a positive result and all the rest that happened before was out of my control.
"It is not to do with me, it is a general discussion that I wanted to start to happen and it is not only up to me to decide what is the direction that we have to go, but certainly I am very happy to develop things together with our partners and Pirelli being an important partner."