Ishiura withdraws from Toyota's 2012 Le Mans bid with back complaint
| | |
| --- | --- |
| By Sam Tremayne | Tuesday, May 8th 2012, 08:41 GMT |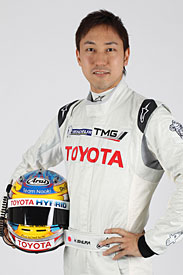 Hiroaki Ishiura has been forced to withdraw from Toyota's 2012 Le Mans line-up due to a back complaint suffered during testing.
The 31-year-old experienced discomfort in his back due to the high g-forces experienced during the first tests of the TS030 Hybrid.
After taking medical advice, Ishiura said he had made the 'extremely difficult' decision to withdraw from this year's 24 Hour race. He had been set to compete alongside Sebastien Buemi and Anthony Davidson in the second hybrid.
"This was an extremely difficult decision to take because racing at Le Mans is my dream, but my physical condition has to be the priority," Ishiura said.
"I did not feel I was in the right condition to race an LMP1 car at Le Mans this year but I will focus on recovering as I really want to drive for Toyota Racing next year.
"For now I will focus my energy entirely on Super GT and the Nurburgring 24 Hours, whilst supporting Toyota Racing from a distance."
Toyota is evaluating potential replacements and will confirm its decision as soon as the change has been ratified by the ACO.
Team president Yoshiaki Kinoshita said he had reluctantly accepted Ishiura's decision, and insisted the door was still open for him to compete with the squad next year.
"I would like to express my thanks to Hiroaki for his integrity in these difficult circumstances. As a team we reluctantly respect his decision and we are pleased he remains part of the Toyota motorsport family through his activities in Super GT and at the Nurburgring 24 Hours," Kinoshita said
"His speed, consistency and team mentality impressed us greatly during his short time with Toyota Racing so we would be delighted if he can return to the team next year."