Brad Keselowski denies Kyle Busch NASCAR Sprint Cup victory at Talladega
| | |
| --- | --- |
| By Diego Mejia | Sunday, May 6th 2012, 23:21 GMT |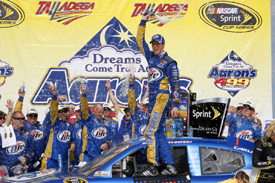 Brad Keselowski claimed his second victory of the NASCAR Sprint Cup season as he left Kyle Busch behind in the last dash of a green-white-chequered finish at Talladega.
The Penske driver got the decisive push from Busch on the penultimate lap when the green waved for the last time, following a multi-car incident ignited by Keselowski's team-mate AJ Allmendinger, who made contact with Joe Gibbs Racing's Denny Hamlin.
The Roush Fenway duo of Matt Kenseth and Greg Biffle had been quickest off the line and pulled away initially until they got disconnected, losing their momentum while watching the Dodge/Toyota tandem pass them.
Keselowski and Busch got up a head of steam, breaking away from their rivals to fight it out between them on the final lap, and although Busch seemed in the ideal position to attack out of the final turn, the Gibbs driver could not stay with his Penske rival heading to the flag, leaving Keselowski's Dodge unchallenged up front.
"I had this whole plan if I ever got in that situation where I was leading," said Keselowski after giving Dodge its first win at Talladega since 1976.
"I thought about it and thought about it, dreamed about what to do and sure enough, going into [Turn] 3, it was just me and Kyle. And I knew the move I wanted to pull. It worked because the guy running second should have the advantage, but I had this move all worked up in my mind.
"I went into Turn 3 high and pulled down off of Kyle and broke the tandem up. That allowed me to drive untouched to the chequered flag."
Busch was left wondering what went wrong on the final half-lap to prevent him from challenging Keselowski, after he had been in the exact opposite position in Saturday's Nationwide Series race, where he got beaten by Joey Logano, who was pushing him before the finish line.
"Somehow getting into Turn 3 just got disconnected from [Keselowski]," said Busch. "Once that happened, the race was over, it was all his. I'm not sure he did anything, if he did, he's pretty smart, but I think our stuff just came unplugged."
Kenseth finished third with bodywork damage on the right front following contact with fellow Ford driver Casey Mears, but despite that he had the speed to contend for victory in the end after leading the most laps. He lamented that his final move with Biffle did not work as planned.
"We got in front of the #2 [Keselowski] and Kyle and as soon as we became clear it wasn't long after that that I looked back and we were separated and those guys were outside of him," said Kenseth.
"With nobody behind him he lost his speed and with me not paying enough attention during that to keep us hooked up it cost us a shot at the win, it cost Greg a shot at the win."
Kasey Kahne finished as the top Chevrolet in fourth ahead of Biffle, who remained the points leader, now followed by Kenseth.
Dale Earnhardt Jr led 10 laps but could not get a proper run in the green-white-chequered finish, complaining of a very loose car in dirty air.
He finished ninth in the end in what turned out to be a tough day for Hendrick Motorsports as Jimmie Johnson retired with an engine failure and polesitter Jeff Gordon was involved in a multi-car incident 45 laps from the end. Another Hendrick-powered Chevrolet, Ryan Newman's Stewart-Haas car, succumbed to a similar issue to Johnson.
The race went trouble-free for most of the first half of the distance, only one caution waving due to Regan Smith's Furniture Row Chevrolet blowing up. However there were four different incidents in the last 46 laps, including one involving Keselowski, who accidentally turned around former Penske team-mate Kurt Busch with six laps remaining.
A number of drivers struggled with high engine temperatures during the race, many avoiding any bump-drafting for most of the day to save their machinery for the closing laps, where only 19 cars were listed on the lead lap.
Results - 194 laps:

Pos  Driver                Team/Car                         Time/Gap
 1.  Brad Keselowski       Penske Dodge                 3h13m17.000s
 2.  Kyle Busch            Gibbs Toyota                     + 0.304s
 3.  Matt Kenseth          Roush Fenway Ford                + 0.598s
 4.  Kasey Kahne           Hendrick Chevrolet               + 0.636s
 5.  Greg Biffle           Roush Fenway Ford                + 0.654s
 6.  Clint Bowyer          Waltrip Toyota                   + 0.692s
 7.  David Ragan           Front Row Ford                   + 0.782s
 8.  Trevor Bayne          Wood Brothers Ford               + 0.838s
 9.  Dale Earnhardt Jr     Hendrick Chevrolet               + 0.839s
10.  Jeff Burton           Childress Chevrolet              + 1.046s
11.  Jamie McMurray        Earnhardt-Ganassi Chevrolet      + 1.063s
12.  Aric Almirola         Petty Ford                       + 1.115s
13.  David Gilliland       Front Row Ford                   + 1.218s
14.  Marcos Ambrose        Petty Ford                       + 1.233s
15.  AJ Allmendinger       Penske Dodge                     + 1.292s
16.  Travis Kvapil         BK Toyota                        + 1.300s
17.  Paul Menard           Childress Chevrolet              + 1.918s
18.  Casey Mears           Germain Ford                     + 7.392s
19.  Michael Waltrip       Waltrip Toyota                  + 16.565s
20.  Kurt Busch            Phoenix Chevrolet                 + 1 lap
21.  Bobby Labonte         JTG Daugherty Toyota             + 2 laps
22.  David Reutimann       Baldwin Chevrolet                + 2 laps
23.  Denny Hamlin          Gibbs Toyota                     + 2 laps
24.  Tony Stewart          Stewart-Haas Chevrolet           + 4 laps

Retirements:

     Kevin Harvick         Childress Chevrolet              184 laps
     Joey Logano           Gibbs Toyota                     184 laps
     Robert Richardson Jr  R3 Toyota                        182 laps
     Martin Truex Jr       Waltrip Toyota                   166 laps
     Terry Labonte         FAS Lane Ford                    143 laps
     Dave Blaney           Baldwin Chevrolet                142 laps
     Carl Edwards          Roush Fenway Ford                142 laps
     Juan Pablo Montoya    Earnhardt-Ganassi Chevrolet      142 laps
     Jeff Gordon           Hendrick Chevrolet               142 laps
     Landon Cassill        BK Toyota                        141 laps
     Jimmie Johnson        Hendrick Chevrolet                61 laps
     Ryan Newman           Stewart-Haas Chevrolet            42 laps
     Bill Elliott          NEMCO Toyota                      37 laps
     Tony Raines           Joe Falk Chevrolet                32 laps
     David Stremme         Inception Toyota                  30 laps
     Regan Smith           Furniture Row Chevrolet           15 laps
     Joe Nemechek          NEMCO Toyota                       7 laps
     Josh Wise             Front Row Ford                     5 laps
     Michael McDowell      Parsons Ford                       2 laps