Audi's Marc Gene says decisive early switch to slicks part of pre-race plan
| | |
| --- | --- |
| By Simon Strang | Sunday, May 6th 2012, 10:33 GMT |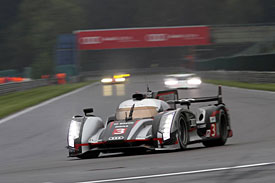 Spa six hours winner Marc Gene said his decision to switch to slick tyres a stint earlier than his rivals in the early stages of the race - a strategy which was key to his crew's victory in the race – was something he had been contemplating overnight before the event.
The Peugeot refugee, who signed for Audi a month ago, won on his debut with the team, alongside team-mates Loic Duval and Romain Dumas, said that he knew the call would be marginal and could be pivotal to the outcome of the race.
"I started working on that yesterday and this morning," Gene told AUTOSPORT after the race. "Before the race I met for a quite a long time with the Michelin guys and I was asking questions about the intermediate and the slicks. And then I spoke with my engineer just before the race and I said: 'Look I think we are going to have to make a very close call, you know.'
"So we were kind of ready.
"And then with 15 laps to go I started to tell him that we had to go for slicks, and then five laps to go I said it's for sure slicks. And I had doubts about which one because we had two types of slicks. I was even in favour of the very, very dry slick, which would have been maybe too much, but when he saw me so confident he had no doubts about making the decision.
"After three laps when I started overtaking cars, then I realised we had made the right choice."
Gene admitted that victory on his first outing for Audi had come as a surprise to him.
"It's very unexpected!" he said. "It wasn't expected a month ago because I didn't expect to be here. I closed the deal with Audi a month ago more-or-less, and to win on my debut, especially when we didn't have the speed because yesterday, it's so unexpected. Life is full of surprises.
"Who would have told me I would be wearing these overalls and standing on top of the podium? It's incredible."