Ferrari begins testing of first step of major upgrade package planned for Spanish Grand Prix
| | |
| --- | --- |
| By Sam Tremayne | Thursday, May 3rd 2012, 08:02 GMT |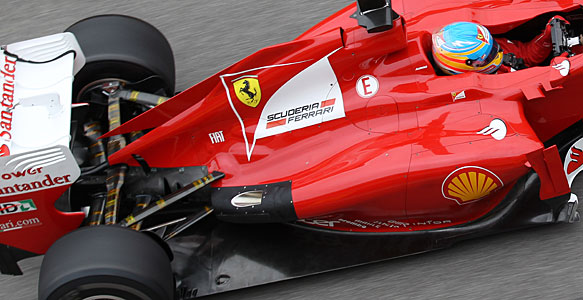 Ferrari unveiled the first step of its major new upgrade package at Mugello on Thursday, as the team brought in revisions to the exhaust exits and rear bodywork of its F2012.
Having made a beleaguered start to its 2012 campaign, Ferrari always planned to use Mugello as the stage in which it would start phasing in significant developments, with further revisions also expected for the Spanish Grand Prix.
The very first items appeared late on Wednesday, when Felipe Massa tried out new turning vanes under the nose. On Thursday morning, it was Fernando Alonso's turn to give the first laps to a new rear bodywork structure.

AUTOSPORT technical consultant Gary Anderson said the changes had the potential to deliver significant gains.
"On the sidepods they've put the exhaust pipes into a more conventional position," explained Anderson. "They are not getting any great degree of benefit, but they're not getting any negatives either, and I think with a troublesome car that's the best place to get to.

"Because of the way the letterbox exit for the exhaust was being used for a radiator exit they've had to compromise a little. They still have a radiator exit there in the new iteration, but it is much narrower and the coke bottle is much better.

"I think what they have done is a reasonable compromise for where they are. They can exploit it further though by getting rid of the radiator, and I think that will be phase two.

"It's very difficult to quantify the changes in terms of lap time, but I do believe they lost quite a lot of downforce with the letterbox radiator exit system they had. It just isn't right to feed low speed air from the radiator into an area where you want high-speed flow.

"Potentially you could be looking at two or three tenths from that one change alone."