Alonso convinced Ferrari an almost perfect team despite struggling to regularly fight for victory
| | |
| --- | --- |
| By Pablo Elizalde and Michele Lostia | Wednesday, May 2nd 2012, 09:53 GMT |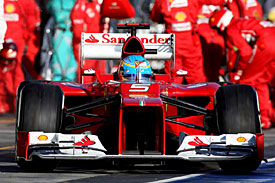 Fernando Alonso is convinced Ferrari is an almost perfect team despite its failure to produce a car that enables him to fight for victories on a regular basis.
"I have no doubt. As external factors go, we are by now an almost perfect team," Alonso told Gazzetta dello Sport in an interview.
Although the two-time champion admitted that pushing his car to the limit was "like walking on a tight rope", he does believe that its recent struggles have made Ferrari much stronger.
"It's like walking on a tight rope at 30 metres above ground, you can never make mistakes," he said. "If you hit a curb in Q1, you're out. Same goes in Q2 if a wheel locks in a turn. But all this makes the team stronger. The mistakes we made in 2010 and 2011 with strategy, pit stops, and driver errors haven't happened anymore.
"That's because the team, by walking on that tight rope, has reached a level of professionalism and confidence higher than you could imagine. The most important thing, the quickest car, is still lacking, but the struggles of these years have made the team improve at double speed compared to a normal year."
When asked if Ferrari could win the title without having the strongest car, he said: "Yes."
The Spaniard, who is 10 points behind championship leader Sebastian Vettel, says Ferrari has managed to minimise the damage in the first four races of the year, but concedes it must react quickly now the European season begins.
He denied, however, that his 2012 title bid would effectively be finished should Ferrari not manage to gain sufficient ground on the leading teams by next week's Spanish Grand Prix.
"We have kind of saved the first four races, but now we must react and take charge," Alonso said. "In any case we never give up.
"This is just the first step, we need to consistently make up the gap race after race. If things go bad in Montmelo, it's not like our season is finished."
Alonso also reckons his team has been paying the price for the lack of testing in Formula 1, because he says its structure has been based around on-track work.
"We are more penalised than others because Ferrari's development philosophy has always been based on this," he added.