Eliseo Salazar reckons Rally Argentina is harder than Dakar
| | |
| --- | --- |
| By David Evans | Saturday, April 28th 2012, 20:22 GMT |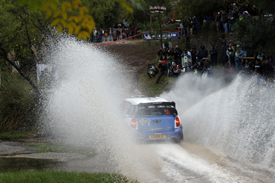 Former Formula 1 racer Eliseo Salazar has admitted Rally Argentina is proving tougher than he expected, with the 57-year-old describing Friday's opening day as harder than a day on Dakar.
Salazar, who is driving a Mini John Cooper Works WRC this week, has competed on the Dakar twice, but the 120-mile opening day of Rally Argentina was a tall order for the World Rally Car rookie.
"In Dakar, OK, you do five or six hours and then you go relax and go in the hotel," said Salazar. "But yesterday was crazy! I woke up at 0430 yesterday and at 10 o'clock last night we were still going. And on this event you are going flat-out and pushing as hard as you can, whereas in Dakar you are driving at 80 per cent."
Salazar added that competing on the longest round of the WRC since the Safari Rally in 2002 completed his motorsport ambitions.
"In Formula 1 we had what was called the magic square and I finished Le Mans, Indy, Dakar and now I need to finish this one," he said. "I guess it doesn't help that I chose to make my debut in the World Rally Championship on such a tough event, but I'm happy. My times are coming down on the second loop of the stages and it's great to drive these cars."