Carlos Sainz Jr takes double pole as F3 Euro Series commences at Hockenheim
| | |
| --- | --- |
| By Jamie O'Leary | Friday, April 27th 2012, 16:15 GMT |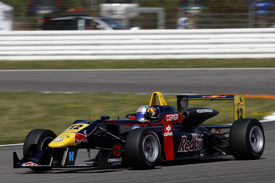 Carlos Sainz Jr took a brilliant double pole position at the opening round of the F3 Euro Series at Hockenheim on Friday.
The 17-year-old Spaniard, who drives for British squad Carlin, was embroiled in a dogfight at the head of the timesheets with his countryman Daniel Juncadella for most of the 30-minute session.
Prema Powerteam driver Juncadella looked to have done enough to end up on top with 90 seconds remaining as he lapped in 1m33.995s. But Sainz, the British Formula 3 points leader, responded on fresh Hankook rubber with first 1m33.774s and then 1m33.709s on his final lap to secure both poles.
Juncadella's best time was 0.286 seconds adrift of Sainz's, but was enough to secure him second on the grid for Sunday's third race. However, with drivers' second best times setting the starting spots for Saturday's season-opener, he is a spot further back.
That is because pre-season pacesetter Felix Rosenqvist's second best lap time was 0.004s quicker, giving him a front row spot for race one in addition to third for race three.
The best of the series debutants was Prema's Michael Lewis, who will start fourth in both races. British teenager Alex Lynn, making a one-off appearance this weekend, was Fortec's fastest driver and will start sixth and fifth for the two races, while his team-mate Hannes van Asseldonk secured fifth and seventh spots.
Carlin's British driver Will Buller was eighth quickest overall and will start race one from seventh while late ma-con signings Tom Blomqvist and Emil Bernstorff, who only drove their cars for the first time two days ago, will start each race 16th and 18th, separated by GU's Philip Ellis.
Grid for race one:

Pos  Driver                Team/Car                Time       Gap
 1.  Carlos Sainz Jr       Carlin Dallara-VW       1m33.774s
 2.  Felix Rosenqvist      Prema Dallara-Merc      1m34.047s  + 0.273s
 3.  Daniel Juncadella     Mucke Dallara-Merc      1m34.051s  + 0.277s
 4.  Michael Lewis         Prema Dallara-Merc      1m34.386s  + 0.612s
 5.  Hannes van Asseldonk  Fortec Dallara-Merc     1m34.491s  + 0.717s
 6.  Alex Lynn             Fortec Dallara-Merc     1m34.579s  + 0.805s
 7.  Will Buller           Carlin Dallara-VW       1m34.581s  + 0.807s
 8.  Sven Muller           Prema Dallara-Merc      1m34.603s  + 0.829s
 9.  Raffaelle Marciello   Prema Dallara-Merc      1m34.615s  + 0.841s
10.  Pascal Wehrlein       Mucke Dallara-Merc      1m34.900s  + 1.126s
11.  Felix Serralles       Fortec Dallara-Merc     1m35.097s  + 1.323s
12.  Lucas Wolf            URD Dallara-Merc        1m35.460s  + 1.686s
13.  Luis Sa Silva         Angola Dallara-Merc     1m35.603s  + 1.829s
14.  Sandro Zeller         Jo Zeller Dallara-Merc  1m35.825s  + 2.051s
15.  Andrea Roda           Jo Zeller Dallara-Merc  1m36.003s  + 2.229s
16.  Tom Blomqvist         ma-con Dallara-VW       1m36.101s  + 2.327s
17.  Philip Ellis          GU Dallara-Merc         1m36.614s  + 2.840s
18.  Emil Bernstorff       ma-con Dallara-VW       1m36.870s  + 3.096s

Grid for race three:

Pos  Driver                Team/Car                Time       Gap
 1.  Carlos Sainz Jr       Carlin Dallara-VW       1m33.709s
 2.  Daniel Juncadella     Mucke Dallara-Merc      1m33.995s  + 0.286s
 3.  Felix Rosenqvist      Prema Dallara-Merc      1m34.045s  + 0.336s
 4.  Michael Lewis         Prema Dallara-Merc      1m34.259s  + 0.550s
 5.  Alex Lynn             Fortec Dallara-Merc     1m34.371s  + 0.662s
 6.  Sven Muller           Prema Dallara-Merc      1m34.446s  + 0.737s
 7.  Hannes van Asseldonk  Fortec Dallara-Merc     1m34.469s  + 0.760s
 8.  Will Buller           Carlin Dallara-VW       1m34.505s  + 0.796s
 9.  Raffaelle Marciello   Prema Dallara-Merc      1m34.591s  + 0.882s
10.  Pascal Wehrlein       Mucke Dallara-Merc      1m34.687s  + 0.978s
11.  Felix Serralles       Fortec Dallara-Merc     1m34.979s  + 1.270s
12.  Lucas Wolf            URD Dallara-Merc        1m35.429s  + 1.720s
13.  Sandro Zeller         Jo Zeller Dallara-Merc  1m35.453s  + 1.744s
14.  Luis Sa Silva         Angola Dallara-Merc     1m35.533s  + 1.824s
15.  Andrea Roda           Jo Zeller Dallara-Merc  1m35.880s  + 2.171s
16.  Tom Blomqvist         ma-con Dallara-VW       1m35.962s  + 2.253s
17.  Philip Ellis          GU Dallara-Merc         1m36.463s  + 2.754s
18.  Emil Bernstorff       ma-con Dallara-VW       1m36.619s  + 2.910s