Sordo surprised to get Ford call to replace Latvala in Argentina
| | |
| --- | --- |
| By David Evans | Thursday, April 26th 2012, 15:28 GMT |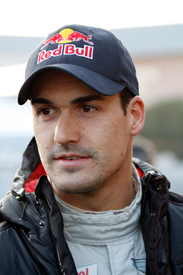 Ford driver Dani Sordo has admitted he was amazed to get the call to drive a Fiesta RS WRC on this week's Rally Argentina.
Sordo is standing in for the injured Jari-Matti Latvala and has made the perfect start to his Ford debut, fastest of the Fiestas on the qualifying stage.
Talking to AUTOSPORT, Sordo pointed out the risk he felt Ford World Rally Team director Malcolm Wilson had taken when he picked up the phone to the Prodrive Mini driver.
"This is a risk for Malcolm," said Sordo. "You know, I only tested one day for the car with not many kilometres and then I come here to do a rally which is very, very difficult.
"Even for me, this was a little bit crazy, but I will not tell Malcolm no [I can't do it]. I try to do my best, but I do not want to make a mistake. I am as surprised as anybody to be standing here in these overalls - but as well, I am sorry for Jari-Matti [Latvala] it's a bad situation for him."
Sordo completed 120 miles during his day-long test in Greystoke last week and the Spaniard admitted it would take him more time to settle into the Fiesta RS WRC.
"It's not long, the test," he said, "and there are still things I want to do with the car. We made some changes at shakedown this morning, but that's shakedown and not the test. It's mainly in the suspension that I want to make the car better for me."
Sordo warned against expecting too much from this week's fifth round of the world championship.
"For the speed, I will try," he said. "But it will be difficult to fight with Mikko [Hirvonen] and Petter [Solberg] ' they know these cars. I need time in the car. It's the same with me in the Mini; you know, the Mini is part of my body now ' it's easy. But now the Ford I need to think many things. In the Mini is do things without thinking, switch on the launch or something like that, but in this car I have to think to do it."