Bahrain's Crown Prince rules out cancelling grand prix
| | |
| --- | --- |
| By Jonathan Noble | Friday, April 20th 2012, 13:19 GMT |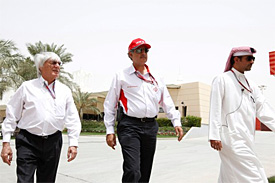 Bahrain's Crown Prince has ruled out any talk of cancelling this weekend's grand prix, after suggesting that such a move would be a victory for protestors.
Despite rising concerns in the paddock about safety, and calls from British politicians for the race to be called off, Prince Salman bin Hamad bin Isa Al Khalifa insisted it was vital the event went ahead.
"I think cancelling just empowers extremists," he said, during a press conference in the Bahrain paddock. "I think for those of us who are trying to navigate a way out of this political problem, having the race allows us to build bridges across communities, and get people working together.
"It allows us to celebrate our nation as an idea that is positive, not one that is divisive. So I actually think that having the race has prevented extremists from doing what they think they need to do out of the world's attention."
The Crown Prince acknowledged the safety concerns expressed by some F1 personnel, in light of Wednesday night's incident involving Force India mechanics, but insisted that protestors were not targeting F1.
"I absolutely can guarantee that any problems that may or may not happen are not directed at F1," he said. "It goes to show that there are people who are out to cause chaos.
"You [in Britain] had these problems last year in your country and there is a very big difference between protesting for political rights and rioting, and the attack that happened around Force India was aimed at the police. It was unprovoked, and it was quite dangerous. But at no time was anyone from F1 in danger."
The Crown Prince acknowledged that Bahrain did have its problems, and said it would be wrong to shy away from events.
"I hope by coming here you understand that unlike what has been reported we are not trying to say we are perfect," he said. "We are a real country with real issues and we hope that you get a chance for all our complexities and all our shades, I genuinely believe that this race is a force for good."
He also said that he would have no regrets if protests ramped up over the weekend and caused trouble.
"I am very confident that protests which will happen at some point, and there is a demonstration today, is part of the political process in any country," he said.
"So why should we be any different? Why should our openness relative to our neighbours be used against us? It is part of the political fabric of the country. The race is the race and we are here to celebrate that. I am here to go racing."