Mercedes boss Norbert Haug predicts classic season in store for F1
| | |
| --- | --- |
| By Simon Strang | Monday, April 16th 2012, 16:23 GMT |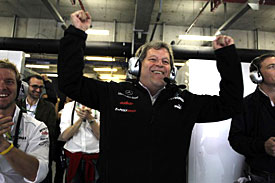 Formula 1 is in store for one of its greatest seasons on the evidence of the first three races, according to Mercedes-Benz motorsport boss Norbert Haug.
Nico Rosberg's victory in China was the third by a different car in as many races and Haug believes that the rest of the year could prove just as unpredictable as the first three rounds.
"I think this could be one of the best Formula 1 seasons of all time and harder fought than ever," he said. 1And that makes our win even more special.
"The reigning world champion was little more than three tenths slower than the fastest car in second qualifying, and he had to start 11th.
"Rosberg started from pole with Vettel outside the top ten - it just goes to show F1's power to surprise."
The inconsistent results of various teams throughout the opening races of this season is partly down to their varying levels of success in finding a setup that worked consistently within the narrow operating window of Pirelli's new-for-2012 tyres.
Mercedes team principal Ross Brawn admitted during the Chinese GP weekend that it too had found a 'sweet spot' with its tyres.
Pirelli's motorsport boss Paul Hembrey reckoned that this pattern could well help to form a truly unpredictably competitive championship battle for the rest of 2012.
"If you look, Nico had a big advantage [in China] but from second through to tenth it was only a few seconds so I think we are in for one of the real classic seasons of Formula 1, which is absolutely fascinating," he said.

"No one can predict it, not even the experts, not even ourselves when we have all the data. I think it is almost impossible to call this year and we should be very excited for this season."