Ross Brawn says understanding tyres were key to victory in the Chinese Grand Prix
| | |
| --- | --- |
| By Jonathan Noble | Sunday, April 15th 2012, 14:50 GMT |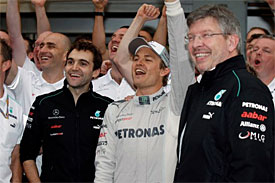 Ross Brawn believes that his team getting its tyres into the 'sweet spot' of performance was key to Nico Rosberg delivering his maiden victory for Mercedes in China.
With the Brackley-based outfit having headed to Shanghai aware that it needed to work on solving the tyre problems that had blighted its performances in the first two races, Rosberg was dominant in Sunday's event.
And Brawn believes that rather than the result showing the relative performance of the cars, he thinks it was all about tyres.
"I think with these tyres if you get it right on the day then you can do what we did today," explained Brawn. "You can see what is very strong opposition perhaps not quite hitting the sweet spot, and having what happened today.
"We managed to get it to work and others didn't, and that will be the characteristic of this year. I think the teams will all get better in using tyres and, as they get better, the occasions when you don't get it right will be fewer.
"But today we got the tyres right, we got the set-up right and we saw the results."
After Mercedes overheated its tyres in Australia and did not get them warm enough in Malaysia, Brawn said that he was actually fearful of the temperatures dropping in China.
"We didn't want it to get too cold funnily enough, because when it gets cold the rubber can start to grain, and you can struggle and fall out of window.
"We were anticipating it being a bit warmer, and we set the car up for that. But the tyres worked perfectly and James [Vowles], our strategy guy, called the race absolutely perfectly in terms of it being two stop. The tyres were just starting to ease off as we came in the pits and that side worked out very well."
Brawn also said that he was not too fearful of Jenson Button threatening Rosberg for victory if the McLaren's last stop had not been delayed.
"We were keeping a pretty close eye on him, and obviously it was a big relief that they had a slow stop and fell into that pack, because obviously they should have come out in front of it.
"It would have been much more of a race though. I haven't really spoken to Nico, but I have a feeling that he had a bit in reserve."