Ferrari's Fernando Alonso convinced sixth was possible in China
| | |
| --- | --- |
| By Pablo Elizalde | Sunday, April 15th 2012, 11:14 GMT |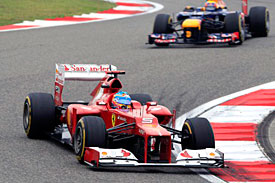 Fernando Alonso is convinced he could have finished in sixth position in the Chinese Grand Prix at the very least, had it not been for the traffic.
The Ferrari driver, the winner of the previous race in Malaysia, had to settle for ninth in Shanghai, behind the two Williams drivers and Lotus's Romain Grosjean.
Alonso said he could have beaten the trio easily had he not been stuck in traffic all race long.
He admitted, however, that today's performance was a truer reflection of where Ferrari stands in the competitive order.
"This is probably a most realistic position than what we saw in Australia or Malaysia especially," Alonso told reporters.
"But I'm convinced that in a race without traffic or with some clean air in front the car would have been quicker than it was, because we couldn't do a single free lap.
"So I think we are a little bit further up, or I want to believe that we would have finished ahead of Williams and Grosjean without too many difficulties."
The Spaniard, who dropped from first to third in the drivers' standings after the Chinese event, said he is expecting next weekend's Bahrain Grand Prix to be Ferrari's worst race so far.
"We have Bahrain next week, which in theory it could be the worst for us. The car is lacking top speed and traction, and Bahrain is nothing else but traction and top speed, so I guess it's going to be an even more complicated weekend than the previous ones.
"And then we will improve for Barcelona, but we will improve three of four tenths. That's the improvement most teams have for Europe. So if we improve five or six tenths and the rest four, then we'll gain two tenths."
Team-mate Felipe Massa finished in 13th position - the Brazilian is yet to score a point this year.