Lotus evaluating DRS-activated front wing after FIA rejected protest against Mercedes device
| | |
| --- | --- |
| By Dieter Rencken and Edd Straw | Saturday, April 14th 2012, 02:03 GMT |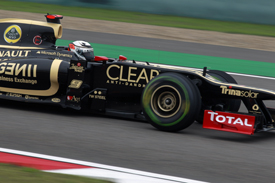 Lotus is evaluating the idea of developing its own version of the Mercedes DRS-activated front wing stalling concept that it lodged an unsuccessful protest against on Thursday at the Chinese Grand Prix.
The Enstone team reckoned that the design, which allows airflow to be channelled from the rear of the car to the front when the DRS is open, violated regulations prohibiting driver-influenced aerodynamics.
But now that the FIA has deemed it to be legal, the team is looking at whether or not to produce its own version.
"We are at the point of having to make our first estimates of how big the gain might be and eyeballing up the difficulty in actually realising that gain," Lotus technical director James Allison told AUTOSPORT.
"It's anyone's guess how powerful what Mercedes has is. But that's not the issue; it's how powerful we think we can make it.
"If you consider that the average rate of improvement is 0.1s per race and we think we can make something that is, say, 0.4s better in qualifying, it's four races' worth of progress and worth having a bash at. But it can be used in qualifying only.
"If [however] you judge that it's going to take eight races worth of effort for four races' benefit, then you are better off working on other upgrades instead."
Lotus team principal Eric Boullier confirmed that the outfit would go ahead with developing the design if it could spare the resources needed to do so.
"Now we know the position of the stewards and the FIA, we can now interpret it more extremely," Boullier told AUTOSPORT.
"Maybe we will develop it if we can afford it and have the resources to do it because it's clearly a gain in qualifying. But it's not worth that much in the race obviously."