Ross Brawn believes improving car set-up is all Mercedes needs to shine
| | |
| --- | --- |
| By Jonathan Noble | Thursday, April 5th 2012, 14:44 GMT |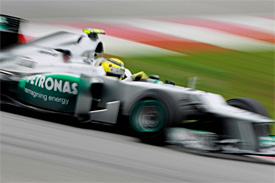 Ross Brawn believes that improving car set-up, rather than a wholesale rethink about the design of the W03, is all that is needed for Mercedes to start finally delivering on its promise.
Michael Schumacher and Nico Rosberg have scored just one point so far this season, despite having had a car that has appeared to be the closest challenger to McLaren in terms of single lap pace.
Detailed analysis of the tyre problems Mercedes suffered in Australia and Malaysia have given the team cause for optimism that it knows what went wrong - and that it can address the situation to ensure there are no repeat issues in the future.
In Melbourne, the team suffered from high degradation caused by it overheating its tyres, while in Malaysia its bid to look after it rubber backfired after cooler conditions in the race meant neither driver could get heat in their rubber.
Speaking from the team's Brackley factory on Thursday, Brawn was adamant that there was nothing fundamentally wrong with the team's 2012 challenger.
"I think we can go a long way [to solving the problems] with set-up," said Brawn, who revealed how narrow the temperature operating window is.
"Obviously we are looking as to how you manage the situation, but in Malaysia it was interesting – because the car that won and the car that was second, we know from Friday practice were very, very hard on the tyres. And it turned around for them in the race.
"But you are talking about 15-20 degrees either side of the optimum being quite critical...it is quite a sensitive window. And it is something that the drivers can operate in, because if they get into that window then they feel the tyre getting a little bit overstressed, or if they ease back they can manage it, but outside of that it is quite difficult for them."
Brawn says that he is 'pretty confident' that Mercedes has made good progress with its car this year, even though it has not yet delivered results on a Sunday afternoon.
"On Fridays we run the car in race trim and we are quite diligent in running the right kind of fuel loads to represent race conditions. And we think other people don't run more fuel than us, because it would be difficult for them to run more fuel than us. So if you look at the comparative lap times, we think we are okay."
But Brawn does concede, however, that Mercedes may need to look at ways of widening the performance window that the car operates in.
"We had one race which by our own admission we didn't do a good enough job in [in Melbourne]. And one race which was an unusual set of circumstances – and a couple of things we did to try and respond from Melbourne went the other way for what we faced in the race in Malaysia. So I am still pretty confident.
"We have not had a clean weekend where we can make a judgement, but I have to say that cars have to be able to cope with a wide range of conditions and, if there is something we have to look at, it is broadening the ideal conditions that the car operates in.
"You also have this dilemma: do you create a situation where you have ultimate performance but it is a bit peaky, or do you come back a little bit from that and have a broader base? We are conscious of perhaps needing to broaden the base, but that is stuff that I think we can do. We can make our decisions on what we want to create.
"But I would like to see a couple of clean weekends – with relative consistent conditions over a weekend and see where that puts us. I think there have been a few teams that are out of position, and maybe we are the most extreme, in terms of not quite coming together in the way you would expect. I think it is all of us getting used to this new family of compounds that we have got from Pirelli."