Ford technical chief Christian Loriaux disappointed with Jari-Matti Latvala and Petter Solberg over crashes
| | |
| --- | --- |
| By David Evans | Friday, March 30th 2012, 13:35 GMT |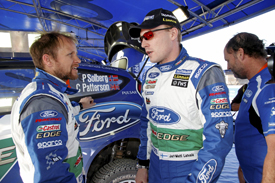 Ford World Rally Team technical director Christian Loriaux says his drivers Jari-Matti Latvala and Petter Solberg squandered a huge opportunity with their Rally of Portugal crashes.
The team had a chance to make up much of its 38-point gap to Citroen in the championship with Latvala and Solberg running one-two, until both drivers went off the road on successive stages.
Citroen's attack, blunted by Sebastien Loeb rolling out of the event last night, is now headed by new rally leader Mikko Hirvonen.
Loriaux said: "We were given a big, big lifeline and we have cut it off. Twice. The championship was over for us really and then we are given this massive life when Seb throws his rally away and all our guys had to do was go steady. They knew they could control Mikko, they knew they could. All they had to do was stay on the road.
"OK, it's easy to say all they had to do was stay on the road and I'm sure it was like Indonesia in the old days, but a load of our other cars managed to get through. It was just survival.
"After Jari went off, Petter had 20 seconds on Mikko, he could have backed off more. It's just such a waste of a turnaround in the championship, we had it on a silver tray and we have put the tray in the bin and then buried the bin."
Loriaux added that the pain was even worse after the Fords' pace had improved with some new gear ratios for this rally.
"We knew when we came here the car was really, really quick and we knew that, in the dry, Jari could beat Seb fair and square," said Loriaux. "We were confident, there was no way they would get away with this one."