Hirvonen changes set-up direction for Rally Portugal
| | |
| --- | --- |
| By David Evans | Thursday, March 29th 2012, 14:40 GMT |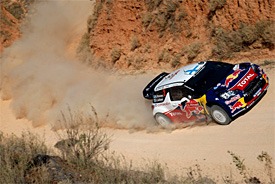 Citroen driver Mikko Hirvonen has revealed significant changes to the set-up of his Citroen DS3 WRC ahead of Rally of Portugal.
The Finn starts the Faro-based event chasing his first win for the French firm and, in an effort to feel more comfortable with the DS3, he was shunned Sebastien Loeb's set-up with the car.
Hirvonen is running second to Loeb in the drivers' championship, but he hopes his latest changes to the Citroen will be enough for him to get past the eight-time champion.
"I changed the car a lot after Mexico," said Hirvonen. "On that rally, I was very similar with Sebastien's set-up. After that rally, I had more mileage with the car and more idea with what I want from the car, so I changed it quite a lot ' we will see if it's the right direction to go.
"I don't want to be aggressive in my driving with the car, for sure that's not going to work with the Citroen at all. It's more in the suspension that I have worked. The area where this car is very, very good is the differentials, so I don't want to touch that so much, it's more about the suspension and trying to find traction and more precision. That's what I want, more precision from the car.
"For sure I want to fight with him and challenge him. It would be nice to get ahead of Loeb."