Mercedes remains silent on future F1 deal
| | |
| --- | --- |
| By Jonathan Noble | Saturday, March 24th 2012, 13:47 GMT |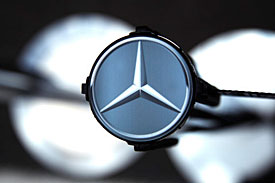 Mercedes-Benz is keeping silent on the reasons why it has not joined rival teams in agreeing commercial terms with Bernie Ecclestone, amid speculation that it is not happy with the way some outfits have been handed a preferential financial deal.
Ecclestone dropped a bombshell on Saturday morning in Malaysia when he announced that a 'majority' of teams had agreed to new commercial terms that will keep them committed to Formula 1 beyond this year.
Although the identity of all the teams involved was not announced, AUTOSPORT understands that the outfits that have reached an agreement with Ecclestone are Ferrari, Red Bull, McLaren, Lotus, Force India, Sauber and Toro Rosso.
That means that those yet to commit are Mercedes, Williams, Caterham, Marussia and HRT.
Although it is understood the smaller teams have not yet been offered terms for a deal, the absence of Mercedes is intriguing because it has been in discussions with Ecclestone for several weeks about the matter.
In public, Mercedes declined to comment about the situation - and refused to divulge any of the background for its absence from the commercial deal.
A Mercedes spokesman said: "We would like to ask for your understanding that our team currently has nothing to say on this matter. We will, of course, inform you immediately at the appropriate time."
Mercedes-Benz motorsport boss Norbert Haug added: "I am not sure who has signed. We put out a short statement and that is what we have to say. We ask for your understanding and we will inform you as soon as we can comment on it."
High-level sources close to the outfit have revealed, however, that the team is unhappy about the deal that has been put on the table, and especially the way that terms being offered to all the front-running outfits are not the same.
A recent report by Sky News, which had been leaked documents relating to the negotiations, revealed that special financial bonuses were being offered to teams that had won the constructors' championship since 2000, teams that had not changed their name since 2000 and an annual 'Double Champions' payment for outfits who had won titles 'in any two or more consecutive seasons including or after the 2008 season'.
Under those terms, Mercedes - which took over the Brawn team for the start of the 2010 season - would comprehensively lose out to rivals like Ferrari, Red Bull Racing and McLaren.
It has been suggested by sources that various options are now being considered by Mercedes, which could include a rethink about its F1 strategy or even a legal challenge under anti-competition law to the commercial terms Ecclestone has offered.
One source suggested that the Treaty on the Functioning of the European Union, which specifically outlaws restriction of competition in Article 101 and the abuse of a dominant position in Article 102, could be used as the basis of a test case to challenge the way in which Ecclestone has offered preferential terms to some teams.
Mercedes refused to comment on whether or not legal action was being considered.