Nico Rosberg predicts set-up compromise in the Malaysian Grand Prix
| | |
| --- | --- |
| By Jonathan Noble and Glenn Freeman | Thursday, March 22nd 2012, 10:55 GMT |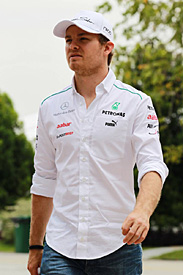 Nico Rosberg believes Mercedes might have to compromise its qualifying performance in Malaysia this weekend to avoid a repeat of the tyre problems it suffered in the Australian Grand Prix.
Mercedes appeared to be in great shape for the season opener after Rosberg and team-mate Michael Schumacher shone in qualifying. But both struggled for pace on Sunday due to excessive tyre degradation.
Schumacher declared the problem as "a one-off" at Sepang on Thursday, but Rosberg believes that in order to make sure it doesn't happen again, Mercedes will have to set its cars up with more focus on race performance.
"It definitely won't be easier here [to look after the tyres], because of the nature of the track," Rosberg told reporters in the Sepang paddock. "We've looked through it, and we are going to be able to improve the situation significantly just with the setup.
"In the race we need to make sure we're doing a better job. But it may mean compromising qualifying a little bit more than we did in Melbourne.
"There is always a compromise between qualifying and the race, and in Melbourne it seems we were a bit to biased towards qualifying. I thought we were looking good, but looking back now I guess we needed to do more for the race."
Rosberg explained that Mercedes had put a lot of work into understanding the problem this week.
"We have been analysing a lot," he said. "There are a lot of ideas and we can help the situation. Some things we may need a bit more time to get on top of but I'm convinced that we can do better.
"It was a very similar problem all the way through the race, whichever tyre we were on. A very general problem. We were working the rear tyres too hard, and that causes a lot of degradation and overheating. But it's not a simple thing."