Michael Schumacher says Mercedes's Australian GP flop "a one-off"
| | |
| --- | --- |
| By Jonathan Noble and Glenn Freeman | Thursday, March 22nd 2012, 08:39 GMT |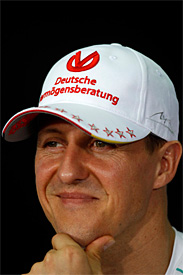 Michael Schumacher believes Mercedes will not suffer a repeat of the struggles it had in the Australian Grand Prix, describing its lack of race pace as "a one-off".
Both Mercedes cars seemed set to star in the season opener, as Schumacher and Nico Rosberg showed frontrunning pace in qualifying.
But the team's F1 W03 was surprisingly lacking on Sunday, with Ross Brawn citing high tyre degradation as the cause of the problems. And Schumacher is confident that Mercedes has got on top of the issue.
"We had done quite a few thousand kilometres in winter testing and never had issues," Schumacher said on Thursday at Sepang ahead of this weekend's Malaysian Grand Prix.
"We understood in Melbourne that we have to do a better job with race pace. But we understood it and fixed it. It is a one-off."
The seven-time world champion also played down the significance of the controversial DRS/f-duct system Mercedes has started the season with, dismissing suggestions that it will give enough of an advantage in qualifying trim to make the silver cars the favourites for pole position.
"Certainly not," he said. "There is no doubt that we have an innovation that gives us some performance but I don't think it's a huge performance. We will find out.
"The basic positive is that we definitely have a much improved car to last year. We still need to learn it and understand it in all circumstances to take benefit and performance from it.
"As we saw in the race we can improve quite a bit with race pace in particular. I don't think we would have been able to achieve a podium in Melbourne if we went all the way through - maybe fifth was the best we could have had.
"But we have good ideas on what to improve from Melbourne. Whether it means we will be on the podium is another story as there are at least four cars which are very strong with two McLarens and two Red Bulls."