McLaren will trust the FIA to make a definitive judgement on Mercedes' rear wing system
| | |
| --- | --- |
| By Matt Beer and Edd Straw | Tuesday, March 20th 2012, 17:40 GMT |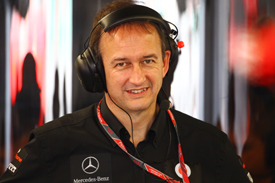 McLaren managing director Jonathan Neale says his team will trust the FIA to take a definitive judgement on the wing system that Mercedes is operating in Formula 1 this year.
Lotus and Red Bull have openly questioned whether the device - which features a hole on the Mercedes W03's rear wing endplate uncovered by the movement of the DRS wing and directed air to the front wing to stall it for a straightline speed boost - is within the regulations. The teams elected not to lodge a protest in Australia, but to ask for further clarification after the race.
In a Vodafone McLaren Mercedes teleconference, Neale said that he believes Mercedes would have cleared the system with the FIA before using it, and so would rely on the sport's governing body to make a definitive ruling rather than getting involved in the row.
"Mercedes were very quick during qualifying and there is enough YouTube footage of Michael [Schumacher] being very defensive about photographs of the car," said Neale. "But I think we have to rely on the FIA [to make the correct ruling].
"All the teams are going to be trying to extract the maximum within the permitted regulations, and innovation - particularly if a car is quick - certainly comes under challenge. We understand that well. But I don't understand well enough what Mercedes are actually doing, and we have to rely on our colleagues at the FIA.
"If we have anything that we think is innovative or pushing the interpretations of the regulations, we are all obliged to disclose that to Charlie Whiting and his colleagues, and I'm very confident that Mercedes will have done that and got a ruling that's OK."
Red Bull team principal Christian Horner said in Melbourne that his concern was that there would now be a costly rush for the whole pitlane to copy the Mercedes idea.
"It is a clever system and hats off to them for doing it, but the most important thing for us is - is it OK?" he said.
"The frustrating thing with all these systems is that it will undoubtedly be banned for next year, but in the meantime are we all going to go off and chase the idea.
"Inevitably there would be a considerable amount of cost involved. It would be a development that the front teams would look at, but it might be something that is prohibitively expensive for the smaller teams."