Nico Hulkenberg downplays Friday showing after strong start in Australia
| | |
| --- | --- |
| By Edd Straw and Sam Tremayne | Friday, March 16th 2012, 09:08 GMT |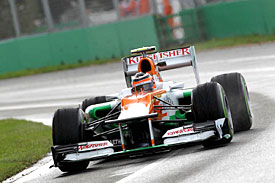 Nico Hulkenberg insists that neither he nor his Force India team see his top two finish in second practice as a realistic reflection of their current pace.
The German had topped the timesheets until the final minute of the rain-hit session, when he was displaced by Michael Schumacher.
Hulkenberg however was keen to dispel the notion that Force India might be able to spring a surprise in Melbourne, explaining that the session had not been representative - and that he was still expecting making Q3 to be a struggle.
"It is always nice to be quite high up on the sheet but you have to be realistic and stay grounded," he reflected. "That's not where I or the team see ourselves.
"Certainly we will try and always push as hard as I can but I don't think that is our expectation. It's just normal that times drop on a damp circuit with 24 cars running on it."
Pushed on whether Force India can spring a surprise - a view fostered by a seemingly strong pre-season – Hulkenberg said: "Why do people say that? I see a lot of other strong teams out there at the same time, I'm not so sure about that comment.
"The car feels quite okay, there are no dramas – driveability and balance seem good – but ultimately what the performance is at the end of the day I'm not sure about yet.
"I think [Q3] is possible, but we also have to really stretch ourselves. P2 wasn't entirely representative – people are on different fuel, different compounds, so it's not a fair comparison. I don't see us in that position."
Hulkenberg added that the missed running in second practice could serve to make the final session and qualifying a bit more of a lottery.
"[It could be] more difficult [tomorrow] because you are not as prepared as you would be with two dry runs," he explained. "Then you pretty much know what to expect.
"Now it is potentially quite a difference. It could hurt some people, and help others."