Christian Horner says 2011 success made Red Bull even stronger
| | |
| --- | --- |
| By Jonathan Noble and Matt Beer | Saturday, March 10th 2012, 14:56 GMT |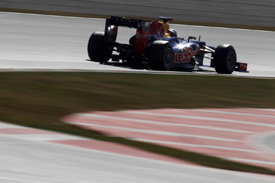 Red Bull Racing comes into 2012 even stronger than it began 2011 in many respects, according to team boss Christian Horner.
Having dominated last year's Formula 1 title race - winning 12 out of 19 grands prix and taking Sebastian Vettel to a second straight title as well as wrapping up another constructors' crown - Red Bull starts 2012 as a strong championship favourite.
Horner reckons that rather than success making Red Bull complacent, last season's results have spurred the team to dig even deeper.
"I think we evolved last year as a team," he said. "It is easy to forget how young a team we are. This is our eighth season and our eighth car and I think in all areas last year we were stronger as a team.
"We had a good car, I think operationally we were very good, reliability was strong, we developed the car very well, strategy was very strong, pitstops - we set the benchmark with.
"We ticked every single box and with the benefit of continuity in all areas, we are looking to learn from the lessons of last year and apply them this year.
"It is such a competitive business you cannot afford to stand still so you have to keep striving to be better. Even in areas where you perceive yourself to be strong in, you can never accept that it is enough, you always have to push for more."
Technical chief Adrian Newey is also raising his game for 2012, said Horner.
"Adrian's motivation is as high as I have ever seen it," he said. "He is really enjoying his work, you can really see that in the amount of effort he is putting in, and throughout the company there is a real sense of determination and motivation to build on the phenomenal success we have achieved in the last few years."
Horner said he had made a point of not trying to draw too many conclusions about testing form, despite predictions of a closer pack and McLaren joining Red Bull as a pacesetter.
"This time last year it looked like Ferrari had enjoyed the strongest pre-season testing, so it just shows how deceptive testing can be and that is why we don't tend to read too much into it," he said. "We are focused on our own programme and we will see in Melbourne how what we have done compares with our opponents."