Barcelona Formula 1 test two round-up
| | |
| --- | --- |
| By Jamie O'Leary | Monday, March 5th 2012, 09:59 GMT |
As the final pre-season Formula 1 test kicked off at Barcelona last Thursday, there was a wave of expectation that what had previously been known - or at least pondered – about the current grand prix pecking order, would be validated, or at least hinted at.
As it ended, there was general confusion on the subject. Were those that the timesheet said were quick actually so? Were some of those names further down the order really hiding their true pace? Were one of two of those smaller teams entered for the season, even going to run their new cars before Australia?
In between, 3,683 laps were completed by 20 drivers in 10 makes of car. New parts were introduced and used (and broken), and a picture – a jumbled one at that – continued to develop of who was moving forward rather nicely, and who has work to do.
As if to prove how confused the situation is a Sauber stood alone at the top of the end-of-week timesheets while the world champion sat plum last. Timesheets don't tell the whole story.
Day 1
There was nothing unusual about seeing the names Jenson Button and McLaren appearing at the top of a timesheet at the end of the opening morning, but Romain Grosjean and Lotus?
True, the Frenchman's pace-setting lap had come on low fuel and soft tyres, but this was a team that had missed most of the previous week's test after problems with the chassis of the Renault-engined E20 emerged. Impressive, it certainly was.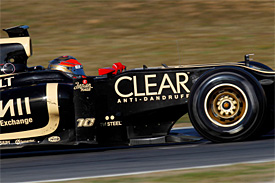 Button, Sergio Perez's Sauber and Mark Webber's Red Bull were next up as the big guns failed to show their hands, instead focusing on runs with higher fuel runs than the others.
Ferrari, after making progress the previous week, seemed to struggle; Felipe Massa only eighth and visibly fighting his F2012 during his 105 laps.
Heikki Kovalainen was unable to drive his Caterham as the Finn had fallen ill with food poisoning on a sponsor visit to Finland the previous day. Vitaly Petrov – still without his custom race seat – took his place, after being abruptly woken up earlier than he wanted that morning.
Complicating matters further was the presence of 20 sets of tyres free from the markings that denote compounds. The all-black rubber was part of an emergency batch, produced at an unspecified Pirelli facility away from the Turkish plant that usually manufacturers the race tyres.
Should a natural disaster (or something of a similar magnitude) prevent the usual race batch from getting to a track, then the emergency rubber would be used. Wanting simply to test that these tyres were up to standard, Pirelli gave each team two sets of varying compounds, to use during the test.
Although named on the entry sheet, HRT's new car failed to join its fancy new motorhome in the Barcelona paddock, with the team announcing its intention to make it onto the track for the final day of running. Rival squad Marussia failed to even make the entry list.
Day 2
Until last Friday, the old adage that lightning doesn't strike twice had held true. But it was on this occasion that Grosjean broke a trend by becoming the first driver to top two days of pre-season testing this year.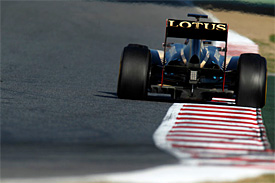 Grosjean admitted that he had used "DRS, KERS and enough fuel," to do the 1m22.614s lap, which knocked Jean-Eric Vergne's Toro Rosso off the top spot, and was also impressive in a 60-lap race simulation in which he had a decisive edge over the Ferrari of Fernando Alonso, which was doing likewise at the same time.
Michael Schumacher took over Mercedes driving duties from Nico Rosberg and suffered from the same tyre degradation issues as his team-mate on soft rubber; the German losing upwards of 2.8 seconds of lap time between the start and end of a stint. Even a whole day pounding around on the rubber couldn't provide a solution.
All the while though, Red Bull and McLaren kept their cards close to their chests; both Sebastian Vettel and Lewis Hamilton undertaking hugely consistent afternoon stints on what was obviously race levels of fuel.
It was at this point – with Ferrari struggling – that it became clear that it is just these two teams that will be in a position to fight for victory in Australia.
Day 3
The buzz in the paddock the previous night – once the vicious, unnecessary and totally unfounded twitter rumour that Massa had been sacked by Ferrari had been blown out of the water – had been of just how radical the updates due on the Red Bull and McLaren would be for day three.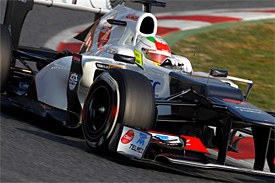 A crowd of journalists and photographers surrounded the Red bull garage as the clock struck 9, to be treated only to a slightly different front and rear wing and revisions to the exhausts.
That the RB8 and MP4-27 were not the fastest cars on the day was no surprise. Nor was it a particular shock that Sergio Perez's Sauber, which completed a number of runs on soft rubber, set the pace. The fact that his 1m22.094s would stand as the fastest lap from eight days of testing at Barcelona, did raise a few eyebrows, however. Even Jenson Button said so.
Rain midway through the afternoon spoiled the planned race simulations of many drivers; although not Force India's Paul di Resta, who ended his simulation just as the clouds began to close in.
One team badly affected though, was McLaren. Button had already lost over an hour of track time to hydraulic problems in the morning, and was just finishing a tyre comparison run with his upgraded MP4-27 when the track became wet. Race simulation cancelled, his team-mate Lewis Hamilton was given a heavier programme to run through on Sunday.
Down at HRT, drivers Pedro de la Rosa and Narain Karthikeyan put in an appearance, while it became apparent that the race to make it to the test had been lost.
Day 4
As if to perfectly book-end the pre-season, Kimi Raikkonen set the pace on the 12th and final day of testing, just as he had the first at Jerez almost three weeks earlier.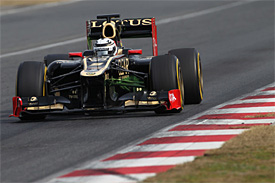 The Lotus driver's pace on soft tyres was enough to land him a spot on top of the timesheets, even if his 1m22.030s lap wasn't a match for Perez's mark of 24 hours earlier.
After Saturday's rain, most teams dedicated Sunday afternoon to race simulations, and while Raikkonen's 65-lap run on a combination of soft and hard rubber resulted in the lowest drop-off of any driver, his overall pace showed up an approximate 0.2s deficit per lap to Hamilton's McLaren.
Alonso was second fastest, but his race pace was inconclusive as a few eight-lap stints were as long as the Ferrari man could manage. Bruno Senna's Williams was quick on low fuel and supersoft rubber while Nico Hulkenberg's Force India and Kamui Kobayashi's Sauber – which completed only 12 afternoon laps after an engine failure brought out the red flags – were next up.
The day was a disaster for Vettel. After going off and damaging one of those precious new Red Bull front wings, he was then prevented from going back out by a gearbox problem. When he did re-emerge, for the final six minutes of the afternoon, all he could do was attempt to generate some – any – data that could be analysed back at base ahead of Melbourne.
The HRT story continued, the team confirming it would run its new car would eventually arrive on Monday. A 'filming day' would allow the machine to complete up to 100km on old-spec tyres. Marussia, meanwhile, was aiming to do the same at Silverstone.
COMBINED TIMES

Pos  Driver         Team            Best time        Total laps
 1.  Raikkonen      Lotus           1m22.030s           164
 2.  Perez          Sauber          1m22.094s  +0.064   232
 3.  Button         McLaren         1m22.103s  +0.073   108
 4.  Ricciardo      Toro Rosso      1m22.155s  +0.125   231
 5.  Alonso         Ferrari         1m22.250s  +0.220   240
 6.  Senna          Williams        1m22.296s  +0.266   212
 7.  Hulkenberg     Force India     1m22.312s  +0.282   134
 8.  Kobayashi      Sauber          1m22.386s  +0.356   149
 9.  Massa          Ferrari         1m22.413s  +0.383   227
10.  Hamilton       McLaren         1m22.430s  +0.400   180
11.  Di Resta       Force India     1m22.446s  +0.416   206
12.  Grosjean       Lotus           1m22.614s  +0.584   197
13.  Kovalainen     Caterham        1m22.630s  +0.600   168
14.  Webber         Red Bull        1m22.662s  +0.632   172
15.  Petrov         Caterham        1m22.795s  +0.765   224
16.  Rosberg        Mercedes        1m22.932s  +0.902   257
17.  Schumacher     Mercedes        1m22.939s  +0.909   179
18.  Vergne         Toro Rosso      1m23.126s  +1.096   144
19.  Maldonado      Williams        1m23.347s  +1.317   126
20.  Vettel         Red Bull        1m23.361s  +1.331   108