Roger Penske says team switched to Ford in order to directly compare itself to other frontline teams
| | |
| --- | --- |
| By Glenn Freeman | Friday, March 2nd 2012, 12:05 GMT |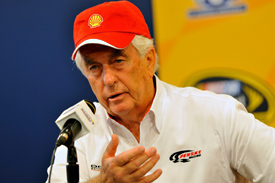 Roger Penske has explained that the decision to switch his NASCAR team from Dodge to Ford is so that it can directly compare itself to other frontline teams.
Penske has been the leading Dodge outfit in recent years, but it has been left with very few other teams to compare with as the manufacturer's presence in the Sprint Cup field has slowly reduced.
"This was a very tough decision," said Penske. "When we weighed up the pluses and minuses of the opportunity, it was apparent to us that we need to win the NASCAR Sprint Cup and we have been trying to do it alone.
"Having the opportunity to benchmark with someone like [leading Ford team] Roush, who has been world class, we thought that it was time for us to evaluate our options."
Penske added that while the change appeared sudden from the outside, the decision to leave Dodge had been taken over a long period of time.
"This wasn't something that happened in the last 24 or 48 hours," he said. "It was over a few months.
"I think change is good. We cannot sit where we are. We've got to get better and from my perspective this opportunity only comes at certain times.
"Our contract [with Dodge] was up. We're not leaving ahead of time. I think this was a watershed time for us to take a good look in the rearview mirror and also look out front.
"We made this decision rationally, and it's one that we're excited about."