Pedro de la Rosa calls for more in-season testing in Formula 1
| | |
| --- | --- |
| By Andrew van Leeuwen | Wednesday, February 29th 2012, 20:12 GMT |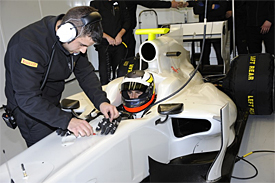 Pedro de la Rosa has called for increased in-season testing in Formula 1, claiming that it may even save the teams money long term, and save reserve drivers from potential embarrassment.
The Spaniard told AUTOSPORT that the current lack of in-season testing was unhealthy for Formula 1, denying drivers of valuable seat time, and leaving even experienced reserves exposed should they need to sub for a regular driver in a grand prix.
"I've been pushing for more testing for a long time, because I think its not right [as it is]," de la Rosa said.
"I understand where the teams are coming from; they're trying to cut costs, that's the bottom line. I understand that.
"But on the other hand we have to have some sessions during the year for the health of the sport, and for the future drivers, the existing drivers, and the reserve drivers. It's healthy for the sport.
"It's one of the reasons I am racing now. I wanted to go racing again, because being a reserve driver was taking me nowhere.
"And it could have been embarrassing. Imagine if McLaren would have needed me towards the end of last year, without me having tested for eight months? It would have been embarrassing to drive a McLaren, a car capable of winning races, and not even make it into Q2."
The Spaniard added that the young driver concept should be scrapped, with teams able to test more often, with any driver of their choosing.
"I don't necessarily agree with the young driver definition. Secondly, I think reserve drivers who have been there all year, been to every grand prix, should have some mileage.
"It's all common sense. I think everyone agrees, but nobody wants to have the fight. I've been trying to do it in a very discreet and unsuccessful way since the very beginning.
"I'm not saying unlimited testing, I'm just asking for something that makes sense for everyone in the current economic climate. I think [testing] is even cheaper than investing money in simulators.
"We need two or three sessions a year of open Formula 1 testing, with any driver the team wishes to appoint. Old, young, experienced - it shouldn't matter, as long they have a superlicense. That's healthy for the sport, and healthy for the drivers."