Fernando Alonso relaxed about Ferrari F1 team's pre-season preparations
| | |
| --- | --- |
| By Pablo Elizalde and Jonathan Noble | Monday, February 27th 2012, 17:41 GMT |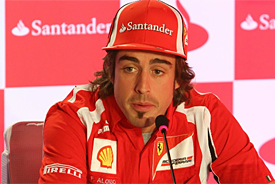 Fernando Alonso says he and Ferrari remain relaxed about their pre-season preparations - as he insists it is far too early to get excited or depressed about its progress.
Although the Maranello-based outfit has faced a tough time in trying to get an understanding of its radical F2012, the outfit was boosted by progress it made during the closing stages of last week's Barcelona test.
But Alonso insists that now is not the time to get emotional about what Ferrari may or may not achieve this year – as the focus must remain on getting through the work that still needs to be done before the Australian Grand Prix.
"There is no worry, nor is it a case of seeing a light at the end of the tunnel," said Alonso about his post-test reaction, during a promotional event with Santander at Jarama on Monday.
"There has been a tendency from the media's point of view to believe that Ferrari is having a bad pre-season, or that the car for some dark reason that we don't know is a bad one.
"But for us, we've always kept calm and we have kept working in a consistent way. The complexity of the car has made everything a bit slower. In fact, after two tests we still have plenty of things to do in the final test.
"The last day they still kept on trying things and I'm sure some of them were interesting. So maybe after Barcelona we are better then we were after Jerez. And after Barcelona 2 we will be better than after Barcelona 1. Then let's hope we arrive in Australia with a competitive car.
"But apart from a slight delay due to the complexity of the car, as I say, we haven't seen the light and we weren't inside any tunnels before."
Alonso thinks the complexities of winter testing make it impossible to say for definite where Ferrari stands in the rankings right now – but he has faith that his outfit will deliver the goods again.
"I can't say if we are first, or second, or ninth," he said. "As of today we are in a position of work in which it is very hard to know where everybody is. It's all speculation.
"You would suppose Red Bull, after dominating the sport for two years, won't be out of Q2 in Australia. You suppose McLaren, Mercedes and Ferrari will not be far away from victory, because they are great teams. But all these are assumptions and let's hope they are true and we can be in the fight.
"The message is the same after every test. The team is working well. Ferrari is the only team that can give you a car capable of fighting for victory. In a year that was relatively bad like 2011 we won a race and finished on the podium 10 times. That's something only Ferrari can give you year after year. And that's the main reason for optimism from everybody."
Alonso also dismissed suggestions that he and the team were feeling the pressure to deliver the world title this year – with the outfit having been without a crown since it took the Constructors' Championship in 2008.
"What's obvious is that every season the demands are bigger, both for Ferrari and for me, because none of us likes to finish second, and second for us is not the result we are looking for.
"So the demand to win every world championship you start, year after year, is demanding, but it's needed for Ferrari and to me too as a competitive athlete.
"It's an important year, yes. But that is only because of the demands we set for ourselves, and not because it has been more or less years without a title."