Top drivers choose lowly start slots for day one of Rally Sweden
| | |
| --- | --- |
| By David Evans | Thursday, February 9th 2012, 18:55 GMT |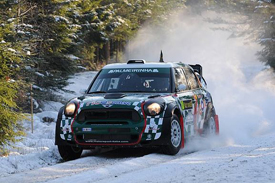 Brazilian Mini driver Paulo Nobre will run first on the road through tomorrow's opening day of Rally Sweden after the drivers chose their starting positions for the first time in the history of the World Rally Championship.
The 21 priority seeded drivers made their choice of position in the running order, with the leaders all preferring to run further back on the road - clearly expecting the stage to sweep clear of loose snow on tomorrow's first day of competition.
Qualifying stage winner Jari-Matti Latvala was the first driver to go over the start ramp at the ceremonial start and select his positions - the Finn went for 17th on the road. Immediately behind him, his former team-mate Mikko Hirvonen chose 18th.
"As soon as I saw the result of the qualifying stage, I sent Jari-Matti a text saying I would chose the place right behind him on the road, as long as he promised to move over for me when I caught him in the stage!" said Hirvonen.
Defending world champion Sebastien Loeb starts from 19th on the road, one place ahead of Mads Ostberg.
Petter Solberg is the factory driver furthest ahead, the Norwegian's Fiesta RS WRC will be 13th into the first stage which takes him from Sweden across the border into his homeland.
Nobre said: "I was determined to lead this rally – and now I am! Thank you very much!"
1 Paulo Nobre
2 Thierry Neuville
3 Peter Van Merksteijn
4 Richard Goransson
5 Michal Solowow
6 Nasser Al-Attiyah
7 Armindo Araujo
8 Sebastien Ogier
9 Jari Ketomaa
10 Henning Solberg
11 Dani Sordo
12 Martin Prokop
13 Petter Solberg
14 Ott Tanak
15 Patrik Sandell
16 Evgeny Novikov
17 Jari-Matti Latvala
18 Mikko Hirvonen
19 Sebastien Loeb
20 Mads Ostberg
21 Eyvind Brynildsen