Pirelli closing in on deal to secure F1 test car for its tyres
| | |
| --- | --- |
| By Jonathan Noble | Thursday, February 9th 2012, 09:22 GMT |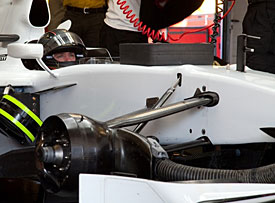 Pirelli is closing in on a deal to secure a much-needed test car for the year ahead, as it now focuses its efforts on getting hold of a 2010 chassis.
The Italian tyre manufacturer has been without its own test machine since the end of last year, because the modified 2009 Toyota it was using is no longer contemporary enough to provide it with good data.
Despite a push to try and get Formula 1 teams to agree on a solution that will allow it to continue track testing in 2012, no agreement that was satisfactory for everyone could be reached.
Pirelli motorsport director Paul Hembery is hopeful that the stalemate can be averted, however, and that it will soon have in place plans for his company to get its hands on a 2010 machine.
"There is some ongoing progress, but I cannot tell you anything about it yet," said Hembery. "It would appear that you can run a 2010 car without contravening any rules and regulations."
One option that Pirelli could be looking at is putting out for tender an offer to individual teams to provide it with a 2010 chassis for the year ahead, with the company then picking the best option.
Although having use of a single team's car could leave some rival outfits unhappy, Hembery is adamant that Pirelli has to do something.
"In the end we've got to do our job," he said. "We're not trying to help any particular team; we're just trying to do our own work.
"At the end of the day, as long as we can ensure that the data position that we are gaining and our decisions are based on what we want to do, and not by individual pressure from any team, then I think we are maintaining our partiality. And that's what we intend to do.
"In the end, time is running out and if a team wants to sell us a car at a very good rate, with good technical support then we're interested."
Pirelli wants a car deal in place within the next few weeks because it is eager to start testing its 2013 development rubber on track at the end of March.