Mark Webber shrugs off delayed start to Red Bull's winter test
| | |
| --- | --- |
| By Edd Straw and Matt Beer | Tuesday, February 7th 2012, 17:03 GMT |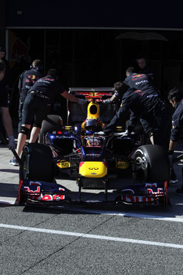 Mark Webber says Red Bull recovered well from losing the first three hours of running on the opening day of Formula 1 winter testing when parts were late arriving.
Fog delayed the flight on which the final components for the new RB8 were being transported, forcing Webber to watch from the sidelines for much of the morning. He managed 53 laps once he was able to join the session, and went fourth fastest, 0.8 seconds behind pacesetter Kimi Raikkonen's Lotus.
"It's never part of the plan to give up three hours," Webber admitted. "We're an incredibly well-organised team and very, very well-prepared, and that's something that is very unusual for us.
"But sometimes we can't control Mother Nature. We risked a tight schedule and we paid the price - that can happen sometimes."
He thinks Red Bull was able to make up for lost time once the car was ready.
"It was good actually. The recovery wasn't too bad, we got some decent running in," Webber said.
"It's always exciting to understand the new concept of a car, and Adrian [Newey]'s already in there having a look around and seeing if he can make the car quicker.
"Beautiful conditions down here, we're very fortunate with that, and the rest of the week bodes well in terms of getting information."
Webber added that the changes to the technical regulations - headlined by the ban on exhaust-blown diffusers - had not made a major difference to the feel of the car.
"The way that the blown diffuser was working the last year or so was quite powerful on the car's balance," he said. "We knew that was coming with the change in regulation and we were working hard to address it with the new aerodynamic package.
"It's different. Subtle changes, nothing massive."