Fernando Alonso glad Ferrari went for a radical 2012 Formula 1 car
| | |
| --- | --- |
| | Sunday, February 5th 2012, 12:01 GMT |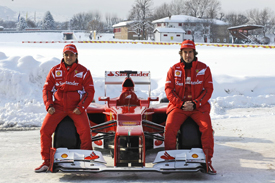 Fernando Alonso says he completely backs Ferrari's decision to produce a radical 2012 Formula 1 design, and argued that the F2012 can still be considered beautiful.
Ferrari's 2012 contender - launched in Maranello on Friday - features a dramatic step in its nose, pull-rod front suspension, and major aerodynamic and packaging changes over its predecessor.
Alonso said he had been excited by the unusual design from the outset - and was pleased that Ferrari was doing something different.
"With the new car the first feeling was very good from the beginning," he said in a video interview released by Ferrari.
"I like the shape, the creative shape that we see in this new car. I think when a car surprises you from the first look, it's always a positive thing and I quite like the car. Hopefully it's fast."
Alonso also defended the F2012's aesthetics.
"I like the innovative ideas that the car has," he said.
"I think all Ferraris are beautiful cars. I don't remember any Ferrari that is ugly or any Ferrari that you don't like. The red colour and the passion of each car that Ferrari does make the car beautiful anyway."
Alonso's team-mate Felipe Massa said he was also pleased that Ferrari was exploring different design directions to its rivals.
"It's a very aggressive car. Different," said Massa. "I'm very enthusiastic that we're going to have a different car and a car where we go to a different direction in terms of development.
"We still need to get used to this nose, which is very strange due to the new rules. But apart from the nose the car is very aggressive and very nice and I hope we're going to see a very competitive car from the beginning to the end."