Proton thrilled to show potential with Monte Carlo Rally top 10 performance
| | |
| --- | --- |
| By David Evans | Wednesday, January 18th 2012, 19:59 GMT |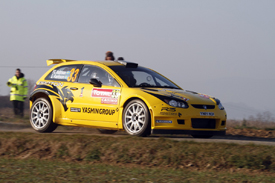 Proton team principal Chris Mellors says the Malaysian firm's World Rally Championship return has demonstrated the potential of the Satria-Neo S2000.
While the car struggled to match the frontrunning Intercontinental Rally Challenge pace last season, two months of work on the Satria have been repaid with a handsome lead at the end of the opening day of Super 2000 WRC competition today. P-G Andersson holds 10th overall and a four-minute advantage over his only SWRC rival Craig Breen, who suffered a puncture on his Ford Fiesta.
Andersson's team-mate Giandomenico Basso retired on the opening stage after crashing into a wall and ripping two wheels off his car.
"For sure, this is my strongest day in the Proton," said Andersson. "Everything worked well. I wanted to be sensible and we've done that. We could have gone quicker on the first stage in the morning and afternoon, but I want to be at the finish of this rally as well. The car has been fantastic today."
Andersson was in the top 10 overall on two of the day's four stages.
Mellors added: "We're beginning to realise the potential of the car now. Of course we understand the context of this position and how many cars are competing [in SWRC] here, but you can't argue with 10th on the Monte Carlo Rally, can you? We're very pleased with P-G.
"Obviously, that's balanced by Giandomenico's accident. It seems the sun got in his eyes and blinded him coming into a sixth-gear corner. In fairness, he was extremely lucky the wall was there, there was a 1,000-foot drop on the other side of the wall."
Basso's car will leave Valence tonight, bound for the team's Derbyshire factory.
"We've got to start working on it straight away for Sweden," said Mellors. "There's quite a lot of damage to the car, unfortunately."