Hill hoping he can bring F1 fans closer to the sport with commentary
| | |
| --- | --- |
| By Edd Straw | Wednesday, January 18th 2012, 09:10 GMT |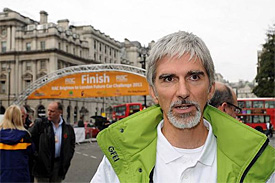 Damon Hill is hoping that he can offer Sky Sports viewers a unique insight into the pressure cooker environment of fighting for the Formula 1 world championship in 2012.
The 1996 world champion has joined Sky as a pundit for the coming season and believes that his experience can help the fans to relate better to the drivers.
"Formula 1 is one of those sports that is very difficult to appreciate fully," Hill told AUTOSPORT. "A lot of people play football or have a go at golf, but it's difficult for most viewers to really relate to the experience of driving an F1 car and being a driver.
"I've been in the spotlight and the focus of attention with all of the pressures that drivers go through. It's how they cope with that that shows their mettle and what kind of character they are.
"That's what sport is. It's slightly cruel in that respect. You're putting them through a rather intense experience although they are volunteering to do it."
In addition to his four seasons as a race driver at Williams, where he enjoyed race-winning machinery throughout, and his two years at Jordan, Hill also has experience of racing in the lower reaches of the grid with Arrows and Brabham in particular.
He is hoping to turn the spotlight on some of the drivers struggling in less competitive machinery as well as focusing on the frontrunners.
"It's a little bit like the acting adage that there are no small parts, there are only small actors," he said. "Those guys at the back of the grid have still got a chance. I've been there myself and knew that if that's all I had to drive, I had to make a good job of it.
"It's interesting from all sorts of perspectives. It's a story worth telling that there are drivers who keep on plugging away. Remember, Alonso drove for Minardi and made his name. A lot of drivers make a name for themselves with poor equipment. It's possible to do that."
Hill added that joining Sky's F1 coverage will allow him to continue to be involved in the sport after focusing on his role as the president of the BRDC, which he stepped down from last year.
During that time, he played a leading role in securing the long-term future of the British Grand Prix at Silverstone, but he is now keen to start following the on-track action in F1 more closely.
"I still feel the need to be involved," he said. "I spent a lot of time on the Silverstone project with the BRDC and have enjoyed having the opportunity of not always being in an aeroplane for awhile. But now is the time, with Josh [Hill, his son] coming back into racing, I kind of drawn back a little bit to being involved in some way.

"I want to follow the sport in more depth again and get a bit closer again."