McLaren not afraid to take risks with 2012 F1 car
| | |
| --- | --- |
| By Edd Straw | Friday, January 13th 2012, 13:04 GMT |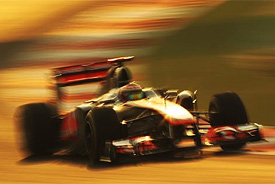 McLaren has not been afraid to take risks with its 2012 car despite suffering a major setback during pre-season testing last year with its unsuccessful 'octopus' exhaust system.
McLaren Racing managing director Jonathan Neale, speaking in today's Motorsport Safety Fund Sid Watkins lecture at AUTOSPORT International, insists that the team's early struggles in 2011 will not force it into taking a more conservative approach with the MP4-27, either in terms of concept or development.
"We're in the business of taking controlled risk," said Neale. "F1 is not a business where you can afford to relax at any moment of time.
"At the moment, we have no idea of the competition. There will be various interpretations of the rules as set out by the FIA, as we saw at the beginning of last year.
"Look at what Renault did. They took an innovative approach to where they exited the exhausts by blowing the front of the floor and that stood them in good stead because they stood on the podium at the start of last year.
"If you don't keep that relentless pressure of development up, you go backwards. Red Bull, Ferrari, ourselves and Mercedes have, over the years, got quite good at that development."
Neale added that the team has learned a number of lessons from its up-and-down 2011 season, during which it proved unable to challenge Red Bull for the world championship but still won six grands prix.
He stressed the need for McLaren to turn its record of consistently winning races into winning more titles and that taking an aggressive approach is needed to do that.
Despite its regular wins, McLaren has not won the drivers' championship since 2008 and is without the constructors' crown since 1998.
"Yes, there is," he said when asked if lessons had been learned. "If you take a look at the number of races that McLaren has won over a 10 or 15 year period and where we have sat in the championship, we win races every year. There were only three drivers in 2011 who won more than one race and two of them were our drivers.
"But we are frustratingly just shy of that drumbeat of winning championships. Of course, winning matters most, both in races and championships. We've been there or thereabouts and McLaren should be fighting for a championship each year.
"It doesn't always go like that and we have had our stumbles because we take risks. We stumbled badly last year and got into some reliability issues with the car, maybe we took too big a bite on some things that we paid dearly for.
"Over the winter, we didn't get the maximum use of that precious testing time. Of course that is in our mind at the moment, but you can't be defensive. If you want to win races, you've got to push really hard. We must not be risk averse and not do these kinds of projects."
Neale also confirmed that the team is on target to run in the first test at Jerez on February 7-10 and that all of the mandatory FIA crash tests were passed before the end of last year.