Martin Brundle says Sky's F1 coverage will be under pressure from the outset of 2012
| | |
| --- | --- |
| | Wednesday, December 7th 2011, 14:47 GMT |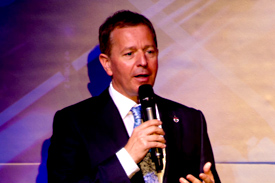 Martin Brundle says Sky's reputation, and the fact it will still be going head-to-head with the BBC for ten grands prix next season, puts pressure on the broadcaster to perform from the very outset of its Formula 1 coverage in 2012.
Brundle, who was official announced as part of Sky's new coverage team, admitted it had been a big decision to leave the BBC but said the promise of commentating live for every race had proved too hard to resist.
"We're going to be head to head with BBC F1, which I know from personal experience is a fantastic group of people making a great show," Brundle told AUTOSPORT in an exclusive interview. "We're going to have to come up with the very best stuff to compete, and these guys know it.
"We're not taking over a sport and moving it on, we're still head to head with the BBC on 10 occasions and that was important to me as well - they have to get it right and I have to get it right for them. I'm confident Sky will throw everything at it to make sure the fan experience is good.
"The key driver for me though was that I wanted to commentate live on all the races. For me, nothing compares to live television and I've always said it gives me a good percentage of the buzz I used to get when I was racing.
"That adrenalin fix, that absolute excitement - when the words leave your mouth they're gone for ever and you have to get it right, and its so exciting to do that. I wanted to commentate live and that was the key driver."
Having signed for Sky a few weeks prior to his official unveiling, Brundle also spoke of his excitement at the team which had been put together, and of his excitements at the increased scope for technical features and analysis offered by Sky's creation of a bespoke F1 channel.
"There's so much scope, so much air time, to do the technical features and other things which I really enjoy but haven't had the chance to do," he explained.
"Normally you make nice pieces and it all has to be cut down; now I can make some really nice pieces that tell the story of a complex and fast-moving sport. What I find when I make those features is that I always learn something - quite a lot actually - and if I'm learning stuff after 29 years doing this then hopefully the fans are too.
"Lets be very clear: BBC F1 was awesome, I loved being a part of it and it was a great privilege. We had a good audience and great people, and I don't think any of us were looking for anything to change so obviously the news we got at the Hungarian Grand Prix was a bombshell.
"Sky spoke to me and when I understood the resource and energy it was putting into this it really appealed to me. Now I am really happy with the team they have assembled. Every day I've been involved I've become more and more confident I've made the right decision."