Renault promises to be more conservative with 2012 car
| | |
| --- | --- |
| By Jonathan Noble and Pablo Elizalde | Thursday, December 1st 2011, 16:26 GMT |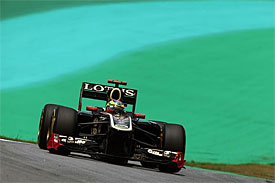 Renault has vowed to take a more conservative approach to the car Kimi Raikkonen will race in his return to Formula 1 in the 2012 season.
The team surprised rivals at the start of the season thanks to the introduction of a radical system with forward-facing exhausts.
Although Renault started the season strongly, the outfit faded as the season moved on, as it was unable to make as much progress as it wanted with the system.
Renault even tried regular exhaust layout during the season, but ended up ruling it out.
Team boss Eric Boullier believes the forward exhausts were "too challenging" and he says his squad will be more conservative in 2012.
He also said Renault will continue to strengthen its structure in order to return to the sharp end of the grid.
"The plan is to carry on the reinforcement of the company in terms of high quality people," said Boullier. "Not necessarily people with big names but with high profile, high technical profile.
"And we definitely need to reinforce our strategy on this, to not lose ground on creativity or everything, and I think the challenge to go very innovative with the forward exhausts was maybe too challenging.
"I believe next year we will be more conservative in a way, even though in many aspects of R&D we have to be creative because this is where we can make a difference - like Renault made the difference in the past when it was world champion."
Renault's season took a hit even before the start, when Robert Kubica was ruled out following his crash.
Boullier reckons his team's problems were not solely down to the absence of Kubica, but also about the strength of its package.
"When you have a downward spiral, it is very difficult to break it," he said. "We had a good start to the season, fastest laptime in Valencia, then the accident of Kubica, I was blamed for this - but I am sorry, I didn't sign the contract with Kubica. He could do rally, he did rally and he had a crash.
"The second thing is we went for a different drive pair which did not bring what was expected. Not because of the drivers but because of the package. The ideas and innovation was too innovative – we had to take a decision to break down this spiral."
And while he concedes that Renault did not develop its car fast enough during the season, he recognises that losing Kubica so early was a big problem for the team, as everything was built around him.
"We obviously didn't develop the car enough. This is true," added Boullier. "We publicly acknowledge this. There is obviously a problem of identity of this company.
"You know why – two people fighting for the Lotus name, so this company for one year was asking itself who we are: Renault? Lotus? Genii? Where do we go? Will we be called Renault, or Lotus or Genii next year? I had to face this to the 500 people in the factory, and I had to bring the shareholders into the company to explain where they go because I have no answer.
"I am an employee. I am not the team owner. We have this company, we took this company over and they appointed me, two years ago. The team was eighth in the championship, the biggest team employee number, and they were eighth in the championship being champion three years before.
"So give me a little bit of time for cleaning the mess – because there is obviously a mess somewhere. You cannot be world champion in 2006 and eighth in the championship in 2009, three years later...
"Don't forget, we built everything around Kubica because he was the main asset of this company and the guy disappears after one week, so my main foundation was broken."