Red Bull amazed Vettel reached the end of the Brazilian Grand Prix
| | |
| --- | --- |
| By Jonathan Noble | Sunday, November 27th 2011, 21:12 GMT |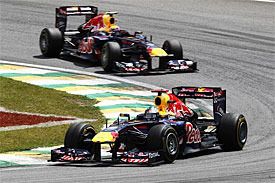 Red Bull is amazed that Sebastian Vettel made it to the finish of the Brazilian Grand Prix, following the gearbox problems he suffered in the race.
The world champion was ordered to short-shift and be conservative with his gear use throughout the Interlagos race after gearbox oil levels were seen to drop early in the event.
And although Vettel managed to nurse the car - and at one point said he felt like Ayrton Senna, who had to manage a gearbox situation in the 1991 Brazilian Grand Prix - Red Bull team principal Christian Horner said the outfit was never certain that he would make the chequered flag.
"Both of the guys had very good starts and, from as early as lap five, we could see gearbox oil levels starting to drop," explained Horner.
"The early predictions were that it might get to half distance, so we monitored it for a couple of laps and then we could see a consistent pattern.
"We informed Sebastian and he then started to try and manage the problem by adjusting his driving style. At that point he had a commanding lead.
"Mark caught him, Sebastian radioed and said he would let him through at Turn 1, which he obviously did. That then released Mark to get on with his race, while we focused on trying to manage the problem."
He added: "Despite running a gear taller in each corner and trying to reduce the amount of shifts possible, his pace was still very strong. So then it was a matter of managing the gap to first of all Fernando [Alonso], and then Jenson [Button]. And there must be zero oil left in that gearbox because it literally went off the scale in those last five laps.
"So we were glued to the data and the screen, just to see if he was going to make it to the end. But that was a very mature and measured drive with strong communication from his engineering team to help him nurse it to the end."
Vettel's unusual problems, and the fact that it allowed Mark Webber to win his first race of the season as well as clinch third place in the drivers' championship, inevitably prompted conspiracy theories that the team had engineered the situation deliberately.
Horner laughed off those theories – which also did not make sense because team orders are now fully legal in F1.
"Categorically anyone that listened to the conversation between the race engineers, or looked at the back of the garage at the amount of activity that was going on over that gearbox, would see it was genuine," said Horner.
"Of course there will always be people who have theories, but categorically there was an issue and that gearbox, how on earth it got to the end of the race is beyond me.
"Thankfully it did and Mark ended up a deserving winner. He has been quick all weekend and, once he was released into the lead, he got his head down and just pulled away."