Sebastian Vettel relieved tyre failure in Abu Dhabi GP not his fault
| | |
| --- | --- |
| By Jonathan Noble | Thursday, November 24th 2011, 20:10 GMT |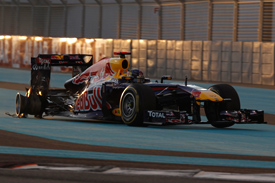 Sebastian Vettel says he takes heart from the fact that the tyre failure that pitched him out of the Abu Dhabi Grand Prix was not his fault - even though Red Bull Racing remains unsure about the exact cause of it.
Although there is a growing suspicion that hot exhaust gases directed to warm the tyres overheated the rubber and caused a failure, both team and driver say they cannot be totally certain about what happened.
Speaking in Brazil on Thursday, Vettel said: "I think we will never find out 100 per cent what happened. But I think it is important to understand I didn't do anything wrong.
"We will never find out what happened in the last race, but we didn't run over any debris. There wasn't anything I could have done differently. I don't like the word luck, but there wasn't anything I could have done differently to prevent the problem.
"Straight after the race we learned a little bit more. After the race I walked the track myself and I couldn't find anything. There were not any problems in Turn 1. There were a lot of drivers using different lines. Pirelli did their research and they couldn't find anything wrong in particular. And that was important.
"Clearly it wasn't a small hole as that failure would have been slower and clearly in Turn 2, I lost it. In three years there haven't been any problems at the tests, and it was important to discover that. I had no chance to catch the car due to the sudden deflation and that was that."
Amid the theory about exhaust gases causing the failure, with sources suggesting the team has only been using 'hot blowing' in races since the Korean Grand Prix, Red Bull Racing team principal Christian Horner revealed in Brazil that the outfit had tried to replicate the failure during testing in Abu Dhabi last week, but had failed.
"I think it is a type of failure that I think we will never probably truly know," he told AUTOSPORT. "Was it a piece of debris or something else? There are lots of theories but because a bag of bits effectively came back afterwards, it is very difficult to see.
"We obviously tested and replicated what happened at the [Abu Dhabi] test without the same result, but we have worked hard with the Pirelli engineers to try and understand it. It is one of the issues that is difficult to have a clear answer on."
When asked if the exhaust theory was the most likely cause, Horner said: "It is impossible to say. All we can say is that there is a sudden deflation as he exits the kerb at Turn 1.
"I think it is one of those things. There will be lots of theories and speculation but there is not a smoking gun to say it was this issue, or this issue, or this issue."