Antonio Felix da Costa reveals stuck throttle fear after claiming Macau front row spot
| | |
| --- | --- |
| By Jonathan Noble | Friday, November 18th 2011, 12:09 GMT |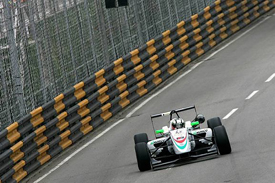 Antonio Felix da Costa has revealed that he suffered stuck throttle dramas on the way to his surprise front row start for the Macau Grand Prix qualification race.
The Hitech Racing driver bounced back from a crash in free practice to deliver the third quickest time in qualifying, but will start from second thanks to Roberto Merhi's penalty for causing a collision on Thursday.
Although delighted at the result, da Costa revealed that qualifying had not been easy for him because his throttle kept jamming open - which left him nervous about crashing.
"Already yesterday wasn't a good day for us, and we were a bit stressed for qualifying because we thought it might rain today as well," explained the Portuguese driver.
"Today I had to step up a little bit and challenge the frontrunners. But I tried a little bit too much because I crashed on the first lap of practice, and without any dry running so far until this morning it looked very bad.
"I wasn't feeling confident at all for this qualifying, and then when coming out of the pit my throttle got stuck open and I lost a little bit of time. I came in and went back out and it got stuck again, so I was never sure if I was going to go into Lisboa with a stuck throttle and maybe crash flat out in the barriers. So, to be honest, I wasn't really confident and I was stressing in the car a little bit.
"But I thought I had to get a good lap time. So with the second set of tyres I went for it and okay, I was really surprised with P3, P2 with the penalty with Roberto. I am happy, the team did a really good job and the car was okay straight away. With Hitech, I think we are surprising everyone."
Da Costa knows that starting second in Macau can often be the best place for the race - because of the long run down to Lisboa corner and the benefit of a good tow.
However, he thinks it important to simply be near the front for Sunday's race, rather than worry about winning the qualification event on Saturday.
"The first race, everyone will take it easy," he said. "It is not the race for the final position, so I will bring it home, in a good position obviously. If I can win I will win. If not, we will be near the front for Sunday."