Pirelli's Paul Hembery says they will never know what caused Vettel's puncture
| | |
| --- | --- |
| By Edd Straw | Wednesday, November 16th 2011, 15:33 GMT |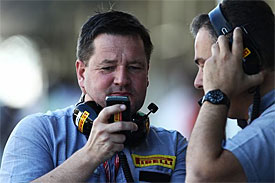 Pirelli motorsport director Paul Hembery believes his company and Red Bull will probably never know what caused Sebastian Vettel's right-rear tyre to suffer an instant deflation while leading the Abu Dhabi Grand Prix after ruling out tyre failure.
An investigation carried out by both Pirelli and Red Bull could find no definitive explanation for what happened, and Hembery admitted that in this case they did not have enough evidence to go on.
"You can come up with 100 different ideas and it's one of those things that you won't know for sure," Hembery told AUTOSPORT. "We'll just leave it at that. Something caused the deflation, and we won't know that cause.
"Sometimes, you're able to get a lot closer [to a cause] because you get a lot more information back or you can see something clearly. We did end up a bag of bits, analysed it in great detail with microscopes and didn't see anything that would cause us to suggest that there was a tyre failure.
"We did the investigation with Red Bull and that's what we both concluded. There's no sign of any tyre failure other than something has clearly created a big hole in it."
Hembery added that Pirelli has no concerns about a repeat of this problem as the tyre itself did not cause the failure.
The fact that the tyre had also been run in qualifying supports his certainty that there was no fundamental problem.
"We're not concerned," he said. "We've had a few things like that in the season. You get something that cuts into the tyre or causes a tyre to fail and often you can quite clearly see the cause. In this situation, we weren't so fortunate.
"There's nothing you can do if something goes into it or cuts it. We try and make them resist as much as they can, but our definition of a tyre failure would be if under sustained use the tyre had failed. This was not the case."
Pirelli did not rule out debris causing the deflation, although Hembery has said that there was no direct evidence of this happening.