Formula 1 team principals are hopeful the RRA can be saved
| | |
| --- | --- |
| By Jonathan Noble | Tuesday, November 15th 2011, 09:39 GMT |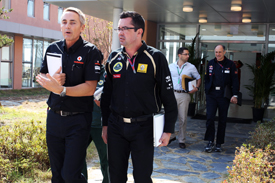 Formula 1 team principals are optimistic that enough common ground can be reached to save the Resource Restriction Agreement (RRA), ahead of crunch talks to decide its future at the Brazilian Grand Prix.
The Formula One Teams' Association (FOTA) had originally planned to get together in Abu Dhabi last weekend, but the meeting had to be postponed because of clashing meetings elsewhere that meant not all bosses could agree on a convenient time.
Although the delay of that meeting prompted fresh doubts about the future of FOTA, with teams suggesting its fate rests on a deal being struck on RRA, leading figures within the organisation remain optimistic that disagreements will get resolved.
This comes despite a last-minute proposal by Red Bull Racing for amendments to the RRA that it would like to see not gaining widespread support among its rivals.
McLaren team principal Martin Whitmarsh, who is also chairman of FOTA, believes that the situation within the organisation was not as dire as some had suggested - and he thinks there was enough common ground between outfits.
"I think there was a bit of sabre rattling saying that this was the end," he told AUTOSPORT.
"Let's start from the top - I think if you went around to everyone and said, 'do you think the costs should be controlled in F1?' I think every single team would say yes. Are the things that we are trying to address at the moment, are they the right things? I think people would say yes.
"I think the difference of opinion is over the level of third party external audit that some teams are accepting. McLaren's position is anyone can come in, they can pull up any drain cover, they can check anything they like. Other teams have got, for good or commercial reasons, a parent company and are part of a bigger business – so they say it is a matter of policy that we do not allow people to come and look at our books.
"We have to be a bit sympathetic of those things, and not just say, 'ah, that means they are cheating...'"
Sauber CEO Monisha Kaltenborn felt that ultimately teams were keen to ensure that F1 did have an RRA – which left her optimistic a compromise could be found.
"I think that is the target and we all want to work towards it," she told AUTOSPORT. "But it all depends on what we agree. We can all agree to go ahead, some can agree, maybe a third party will get involved in this, all is open at the moment.
"The importance thing is to sit down and break it down to the most fundamental points, and find out if we have agreement on that or not. I am sure it will go ahead in some way or another, it is too important a topic."
Renault team principal Eric Boullier believed that sorting out RRA was key to FOTA's future, and felt that perhaps it was time some elements that are currently controlled by the body are moved outside and governed by external bodies – which could include the FIA.
"I think we have an issue to fix which is the RRA," he said. "More than this we have to rethink how we can split some responsibility from FOTA when some decisions put it in a difficult position.
"I think we are nearly there because at least now we have people moving forward in getting some proposals and discussing.
"We should rethink a little bit the status of FOTA and take away some of the sensitive discussions like this, to make sure they are ruled in a different context by the FIA. We must make sure FOTA is used as a constructive tool for all the teams."
Ferrari team principal Stefano Domenicali believes the next week is crucial, as team bosses would be given time to analyse the Red Bull Racing proposal ahead of the Brazil meeting.
"I think as you know we have done a proposal too, there was also this proposal submitted by Red Bull - I received it when I was flying here," he said.
"This is a week when we need to think about it. RRA is a very important element for the future of this sport and we need to make sure it is effective. It is a week to prepare for the meeting in Brazil."