McLaren amazed by KERS-less Jenson Button's Abu Dhabi drive
| | |
| --- | --- |
| By Jonathan Noble | Monday, November 14th 2011, 12:09 GMT |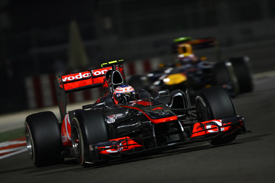 McLaren team principal Martin Whitmarsh has praised the job that Jenson Button did in the Abu Dhabi Grand Prix - as he battled race-long KERS problems to deliver a podium finish.
Although the Woking-based outfit's focus was on seeing Lewis Hamilton deliver a dominant victory, Whitmarsh said the team was just as delighted in seeing Button overcome his own difficulties to finish third.
"We will remember it, and rightly so, for a great, great win for Lewis, but we should not underestimate the job that Jenson did," explained Whitmarsh.
"Early in the race he had a KERS failure and he spent about 20 laps without it, so for the rest of the race we were trying to reset it to get it going. But then it would fail again.
"During all that time, and these were times when he was trying to keep rhythm, trying to keep pace, trying to defend position, trying to get through traffic - his brake balance was swinging wildly with the failure of KERS or not.
"So it was an incredible job to do that and a really difficult one to convey the challenge we gave him. It was a great, great job to be on the podium with all that."
Whitmarsh revealed that Button's KERS problems began quite near the start of the race, and were never really fully resolved.
"I think it was probably around lap 10 that he started to have issues, and then he did about 20 laps with no KERS. After that he had KERS intermittently because we were resetting it, turning it off and then turning it back on, probably about five times.
"It was really an incredible job by him because it makes a huge difference, not just in lap time but also in balance, and actually arguably, probably a fault in the system is that impending failure isn't predicted.
"So every time it went off he just had to arrive at a corner with a violently different brake balance. I imagine at any of these hairpins, if you are coming down to them at quite a big speed wondering, 'have I got a functioning KERS system and is my brake balance appropriate?', that is not an easy thing mentally to deal with, or even physically to deal with."
Although Button's result has moved him a step closer to finishing runner-up in the drivers' championship, Whitmarsh does not think that Button is attaching too much importance to the matter.
"There is a fight for second in the drivers' championship, but on race morning we were talking about various strategies with Jenson. What I liked was that he felt, let's take a risk with the strategy if we get the opportunity.
"His mentality was, 'I don't care about finishing second in the championship, I want to win the race'. If the cards had fallen in a particular way, his attitude was I am flat out to try and win the race, and if that entails risk that puts in threat my second in the drivers', he was very happy to do that.
"I think that is the right attitude because, to be honest, wins are what we are about, not trying to hold on to a second place in the drivers' championship. It is a great attitude."