Team boss Joe Gibbs insists Kyle Busch will not lose drive over Texas controversy
| | |
| --- | --- |
| By Diego Mejia | Friday, November 11th 2011, 18:50 GMT |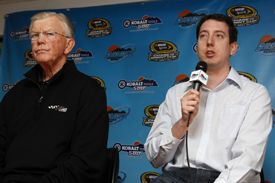 Kyle Busch admits he feared he would lose his drive with Joe Gibbs Racing following his actions during last week's NASCAR Truck Series race at Texas, but team boss Joe Gibbs says he will continue to race for his outfit next year.
On Friday morning Gibbs confirmed that the 26-year-old will remain a JGR driver for the reminder of the season and into 2012, amid speculation that #18 car's main sponsor Mars, through its brand M&M's, did not want to carry on its backing of the team if Busch remained behind the wheel.
On Thursday Mars put out a statement announcing it was effectively withdrawing its sponsorship for the last two Sprint Cup races of the season at Phoenix and Homestead, with longtime JGR sponsor Interstate Batteries taking over for both events.
According to Gibbs, besides NASCAR's penalties and his sponsor's decision, the team will put in place a number of internal measures to punish Busch.
He said that when faced with the decision of whether to terminate his driver's contract, he chose to continue to support Busch and hope he makes amends for his actions and finally turns a corner with his behaviour.
Busch, a former Nationwide Series champion for the team, had been the outfit's main championship contender this year, but his penalties from last week at Texas all but ended any hope of him remaining in the hunt for his maiden Cup title.
"Kyle's penalties are going to be substantial," Gibbs said. "If you think about it, NASCAR taking him out of the car last week, there's also a fine associated with that but the biggest thing is we went from seventh in points in the Chase to 11th.
"That's a huge deal. I know Kyle and all of us were excited about getting back in the top five. That'll probably take this away from us. I'm just emphasising that was a huge deal for us.
"Other actions are going to be in place. There'll be other financial penalties and stuff that we're working through and we'll continue to do that as we continue to go forward through this process.
"When you're put in a situation like this, you really can make one or two decisions. One would've been devastating, I think really discouraging for everybody associated with it, Kyle, everybody around him and for the sport.
"What I've chosen to do - I want to support Kyle. This could have a positive impact on Kyle and I'm committed to him as a person. I like him, we've gone through a lot together and as far as us at Joe Gibbs Racing we're looking forward to a long relationship."
Busch was apologetic when facing the media for the first time since NASCAR suspended him from racing at Texas last week and expressed his appreciation for his team's support. He admitted his actions, which took place while driving for his own team, have lost him respect with his JGR peers, colleagues and fans, but said he hopes to make the most of an "opportunity to become a better person."
Earlier this year Busch went past 100 wins in NASCAR's national series, claiming four Cup victories on the way to being one of the leading Chase contenders entering the play-off.
However controversy has surrounded him all season, first when he was caught speeding on public roads in May and consequently lost his licence, then when he was on the receiving end in a physical altercation with team owner Richard Childress at Kansas in June, ignited by a clash with an RCR driver on the track.
Busch said he feared for his future at JGR after being suspended from racing at Texas but denied that possibility was mentioned by his bosses this week.
"When you sit back and reflect and think about everything, you're sitting there on the sidelines on Saturday [at Texas], you're sitting there watching your [Cup] car race on Sunday, you know that's a huge deal," he said. "That's a huge disappointment not only to myself but more importantly to my team.
"These guys at Joe Gibbs Racing that had nothing to do with Friday night [at Texas]. I feel a tremendous amount of remorse for them. I've got to gain their respect back.
"Was there a point in which I thought 'do I have a ride'? Of course there was. Yeah, I thought that. Was there a point where Joe ever told me that 'hey, we're looking at terminating this'? No. Joe has been there and stuck by my side, held my arms through this whole deal."
Busch also stated that he has spoken to Ron Hornaday, with whom he clashed last week in the Truck race at Texas, and indicated they are already on good terms. The former Truck champion is still looking for a drive for next season and reportedly held talks with Busch about a seat with his team in 2012.
Next year Busch will also field his own car in the Nationwide Series.