Button says risk remains inherent in motorsport as he pays tribute to Dan Wheldon
| | |
| --- | --- |
| By Jonathan Noble and Sam Tremayne | Thursday, October 27th 2011, 13:02 GMT |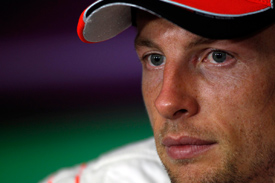 Jenson Button says danger remains an inherent element of motorsport's make-up, as he paid tribute to his friend and past rival Dan Wheldon.
Button said that the shock of losing Wheldon had been hard to take, but accepted that an element of risk would always remain and therefore preferred to remember the positives from Wheldon's career.
"Motorsport is different to other sports," Button said. "All motorsport is dangerous, it doesn't matter what you are doing.
"There are different levels of danger. MotoGP is MotoGP; you can't get away from the fact you don't have anything around you. It's been the same for 50 years.
"There is danger involved when you look at IndyCar: they are flat out on ovals most of the time, it is such a high speed to be within a few centimetres of other cars. Again, that's what IndyCar is and what it's all about.
"When I saw the accident and heard the news about Dan it was a massive shock for me because I have known him since we were young.
"He was working very hard on improving the safety of IndyCar, he was working on the new car, so he was doing a lot of work. It's a terrible loss."
Button raced against Wheldon throughout the start of his career in karts and single seaters, and says he has fond memories of the battles they used to have.
"I'm not as close to Dan as I used to be, as I haven't raced against him since 1998. Last year was the last time I saw him, but we raced against each other since he was eight years old.
"He was always the man to beat, he always had a big Number 1 on his kart because he was British champion. He was the guy you got out of bed in the morning thinking 'I want to beat him'.
"More often than not you didn't. We had a lot of good fights in our career. He's the guy I followed into Europe in karting, and then we both ended up racing in Formula Ford together and we had some great battles.
"We had our comings together, didn't see eye-to-eye all the time but I think we had a mutual respect. I had a great race with him at the Festival, where I was lucky enough to come out on top.
"It's very difficult when the sport has lost someone as good as Dan, but you have to take the good memories from it and remember what he has given to the sport."