Pirelli to meet FOTA Sporting Regulations Working Group to discuss 2012 tyre rule tweaks
| | |
| --- | --- |
| By Jonathan Noble | Sunday, October 16th 2011, 04:39 GMT |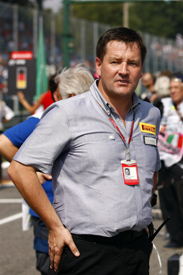 Pirelli has been invited to meet Formula 1 sporting directors at the Indian Grand Prix in a bid to forge an agreement on tyre regulation tweaks for 2012, AUTOSPORT has learned.
Following recent controversy about teams electing not to run in Q3 in a bid to save tyres plus the implication of unused rubber and a testing plan going forwards, the teams and Pirelli have had varied opinions about a way forward that satisfies both them and the fans.
Pirelli's motorsport director Paul Hembery met Oliver Weingarten, the secretary general of the Formula One Teams' Association in Korea this weekend to try and make progress on the matter.
And following encouraging talks, it was agreed that Hembery will now discuss the situation with FOTA's Sporting Regulations Working Group in India.
Weingarten told AUTOSPORT: "We had a constructive meeting with Pirelli on Friday, where we discussed a number of issues and we look forward to further discussions with Pirelli going forward, and that is why we have invited them to the SRWG meeting in India."
Hembery said that recent remarks expressing his frustration at the Q3 situation were not aimed at criticising teams - but purely out of a desire by Pirelli to try and help improve F1.
"We are being held account by the public just as much as they [the teams] are, and all we are saying is that we are willing to try and find a solution," said Hembery. "That is why we are here, we are here as a partner. We are not here to say, 'you are all crazy, why are you doing this?'
"We are saying, 'come on, we have found an area here that is a little bit grey, let's try and sort something out together'. That is our only message really. I know some people have really taken it the wrong way, but that has not been our intention. Our intention has been to be proactive.
"We are not in the game to create problems, we are here to find solutions and make things better. Not only for the teams, but also the public. We are in the entertainment business and you cannot forget that."