Ross Brawn calls for DRS to be reassessed after 2011 season
| | |
| --- | --- |
| By Jonathan Noble and Matt Beer | Wednesday, October 12th 2011, 16:10 GMT |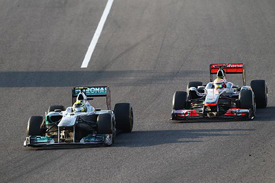 Mercedes team boss Ross Brawn wants the FIA to re-evaluate the Drag Reduction System (DRS) concept at the end of the season to see whether the device has been worthwhile.
DRS has been an element in the most eventful Formula 1 season in years, with overtaking increasing dramatically at almost every race.
But Brawn remains unsure over whether Pirelli's aggressive approach would have generated a similar level of action without any need for the wing device.
"It has been hard to judge its value because the DRS influence is not as big as the tyre," said Brawn.
"I think tyres have been a major element. DRS, as far as we are concerned, was introduced to stop the racing being processional and it hasn't been because of the tyres, so I think at the end of the season with the FIA we should take a step back, look at where it hurt, look at where it helped, and see what we gained, and see if it has achieved all of its objectives."
Brawn is concerned that overtaking has occasionally been made too easy - and therefore devalued - by the DRS, and wants to be certain that fans appreciate this style of racing.
"We had a couple of races this year where we wished there had been no DRS because we lost places. Montreal was a good example," he said.
"It is frustrating but we need to understand from the fans if they feel that overtaking with DRS is exciting to watch or not, or whether they preferred for overtaking to be more difficult, so we work around the tyres and other factors.
"So I think if we had kept the consistency of the Bridgestone tyres, which were very consistent in the past, then the DRS definitely would have been a very important requirement. It has been less critical because of the tyres."