New operations chief Mark Gillan sure Williams can recover its form
| | |
| --- | --- |
| By Jonathan Noble and Matt Beer | Wednesday, October 12th 2011, 15:50 GMT |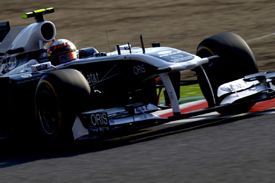 Williams's new chief operations engineer Mark Gillan says there is no reason why the team cannot return to form, or any need for it to write off the rest of the 2011 season.
The former champion team has struggled to get into the top 10 throughout this year, and is only ninth in the constructors' championship, with just five points on its tally.
But Gillan is confident that Williams still has the potential to be a leading team again, and to recover some ground before 2011 is over.
"Obviously we need to do a better job with next year's car, and to do that we need the processes in place, but that doesn't preclude better performance on this year's car," he said.
"There's a couple of things we were very late to the party with in terms of development, which we are still developing hard and still have updates coming certainly for the next few races.
"We aim to make a good jump in terms of points. At the moment we are on the cusp of getting into Q3 or not, it's very difficult. By the end of the season that has to be the goal. Moving forward we need to make a big change."
Gillan started with Williams at the Singapore Grand Prix, and says he has already identified areas where improvements can be made to its practices.
"There's a number of areas," he said. "First of all it's just a very simple one, getting quick and timely communication from the factory to the race team and vice versa to ensure that the factory, if we take aerodynamics, know exactly what is required, the operating envelope of the car, where we run it, where we would like to run it, so when we get a part to the track it's been optimised for that particular track.
"Those are the things we are looking to improve, so to try and manufacture less parts but make a bigger impact when we bring a particular part to the track, so that when the driver tests it there is a clear performance improvement. I think in the past we have made a lot of things but not as big a jump as it could have been."
But he said Williams's spirit remained strong despite the tough times it is enduring.
"I have been really impressed," Gillan said. "Coming in here it's very difficult to know what to expect with a new team, but I worked at McLaren, Toyota, Jaguar, and this is a very friendly, open team despite obviously not having the results for a while.
"There is an absolute hunger and desire to get back to where we should be, and there is an eagerness to push forward, take on new ideas and to really accelerate the development programme as quickly as possible. That's very evident even in two weeks."
He added: "We have the facility, the people and now the direction to do a much better job than what we have been doing, and I am quietly confident.
"Nothing is overnight, it just doesn't happen in this game, but given the time that we can be back where we should be."